Plamen Asparukhov: CKDA Championships in East Germany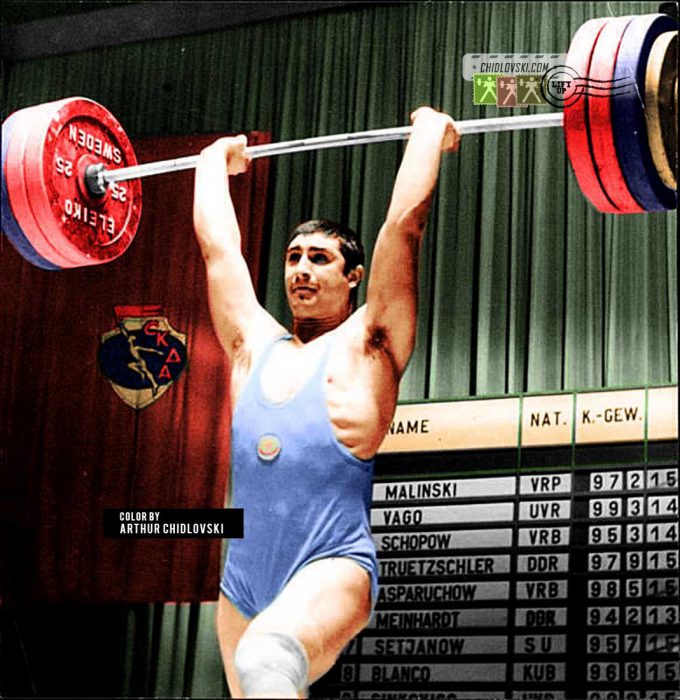 History in Color:
East Berlin, GDR – Bulgarian sub heavyweight Plamen Asparukhov competes for the Army Team of Bulgaria in cj program in the 100kg weight class at the CKDA Championships in the late 1970s in Germany.
Plamen Asparukhov (born in 1960) of Pernik, Bulgaria was one of the top Bulgarian prospects in the late 1970s – early 1980s. He represented Bulgaria at the 1980 Summer Olympics in the 100kg class and won the World Cup the 1982 World Cup in Varna. Plamen Asparukhov won a bronze medal at the 1981 World Championships in Lille and 3 bronze medals at the European Championships in 1979, 1980 and 1981.
In the national level, Asparukhov won 3 national titles in the heavyweight class at the Bulgarian Championships in 1981, 1982 and 1984.
Asparukhov's personal best results in total were 385kg (175+210) in the 100kg weight class (February 2, 1980, Varna, Bulgaria) and 405kg (180+225)  in the 110kg class (September 19, Lille, France).
After the end of his career as an athlete, Plamen Asparukhov worked as a coach and trained such notorious atheles as Yoto Yotov, Stefan Georgiev, Galabin Boyevsky, Damyan Damianov and more. Asparukhov coached the national team Bulgaria in 2000-2004 and for the Beijing Olympics in 2008.