Mladen Kuchev: 1975 World and European Championships
April 26, 2022 – Legendary Bulgarian weightlifting champion,  author of eternal world record in press, Mladen Kuchev of Pleven, Bulgaria celebrates his Birthday today. Happy Birthday, Champ!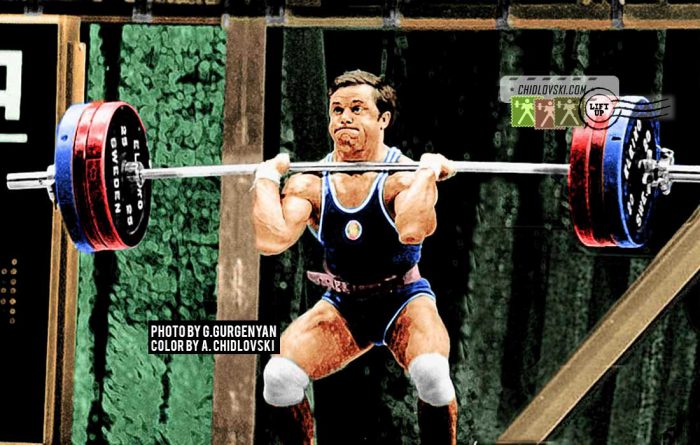 History in Color:
September 18, 1975, Moscow, USSR – Lightweight Mladen Kuchev of Team Bulgaria completes a 165kg clean-and-jerk opener in the 67.5kg weight class at the 1975 World and European Championships in the Luzhniki Sports Arena in Moscow.
By the end of that night in Moscow, Kuchev won a bronze medal with a total of 302.5kg (132.5+170) and a bronze medal in snatch with 132,5kg.
Mladen Kuchev (b. 1947) of Pleven, Bulgaria was the member of the first national team assembled by Ivan Abadzhiev when he was appointed to run national weightlifting Team Bulgaria. He was a 2x Olympian. Besides a silver medal in the 67.5kg class in Munich (1972), he took the 9th place in the 60kg class in Mexico City (1968).
Mladen won 4 silver (1969, 1970, 1972, 1973) and 1 bronze (1975) medal at the World Championships. He was a 3x European champion (1969, 1970, 1972) and won 8 national titles in Bulgaria.
Kuchev's forte was certainly his press lift. He set 10 world records in his career. 9 of them were in the press lift.
At the 1972 Summer Olympics, Kuchev won a silver medal for Bulgaria with a world record in press (157.5kg). Olympic press lift was eliminated from weightlifting competitions after the Olympics in Munich and Kuchev's record became an "eternal" world record in the 67.5kg class.