His Majesty, the King of the Birds World
The guy on the cover photo doesn't seem to be the prettiest among the birds. Definitely, it's not a winner of beauty contest among the birds or anything of that type.
The Latin name of this guy is Tyrannus tyrannus and it is known as Eastern Kingbird*. It's truly a royal specie. Overall, It is a large flycatcher that is famous for his attitude and bold behavior. Kingbirds are afraid of nothing. Although,  certainly, this little berry he is chewing on the photo doesn't inspire the "Your majesty" address he royally deserves.
Quite often, this big-headed, broad-shouldered bird can be seen chasing Red-tailed Hawks, Ospreys, Great Blue Herons, and other birds that pass over Kingbirds  territory. The photo below shows a Kingbird in action establishing a no fly zone over his land.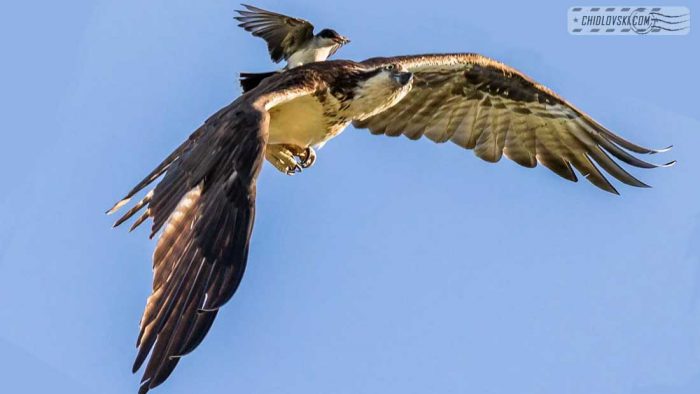 Other than that, Eastern Kingbirds often perch on wires in open areas and either sally out for flying insects or flutter slowly over the tops of grasses. They spend winters in South American forests, where they eat mainly fruit.
---
Belarusian: Каралеўскі тыран
Bulgarian: Източен кралски тиран
Catalan: tirà oriental
Creoles and Pidgins, French-based (Other): pipirit, pipwe
Czech: Tyran královský, tyran obecný
Welsh: Teyrnaderyn y Dwyrain
Danish: Østlig Kongetyran
German: Königstyrann, Königs-Tyrann, Schieferrücken-Königstyrann
English: bee, Bee Martin, Eastern Kingbird, Kingbird, Tyrant Flycatcher
English, HBW: Eastern Kingbird
English (IOC): Eastern Kingbird
English (United States): Eastern Kingbird
Esperanto: Reĝa tirano
Spanish: Benteveo blanco y negro, Chilero oriental, Pitirre Americano, Pitirre Migratorio, Pitirre Norteño, Sirirí Norteño, Suirirí boreal, Suiriri cabeza negra, Suirirí cabeza negra, Suirirí de cabeza negra, Suirirí Norteamericano, Tirano Dorso Negro, Tirano Norteño, Tirano Oriental, Tirano Viajero
Estonian: ida-türanntikat, karbus-türanntikat
Finnish: Pihatyranni
French: Tyran tritri
Frisian: Keningstiran
Irish: Rí-éan oirthearach
Galician: Suirirí valente
Hebrew: טירן מזרחי
Croatian: crnoglavi silnik
Hungarian: keleti királygébics
Icelandic: Kóngahersir
Italian: Re dei tiranni orientale, Tiranno orientale
Japanese: オウサマタイランチョウ
Lithuanian: Rytinis karališkasis tironas
Latvian: austrumu karaļputns
Dutch: Koningstiran
Norwegian: Østkongetyrann
Polish: Tyran piripiri, tyran pólnocny, tyran północny
Portuguese: piranha-uíra, Suiriri-valente
Russian: Восточный королевский тиранн, Восточный тиранн
Slovak: postriežkar kráľovský, tyran kráľovský
Serbian: Istočna kraljevska tiranka
Swedish: Östlig kungstyrann
Turkish: Doğu kralkuşu, Göçmen tiran
Ukrainian: Тиран королівський
Chinese: 东王霸鹟