Eugene Katsura: 1963 Prize of Moscow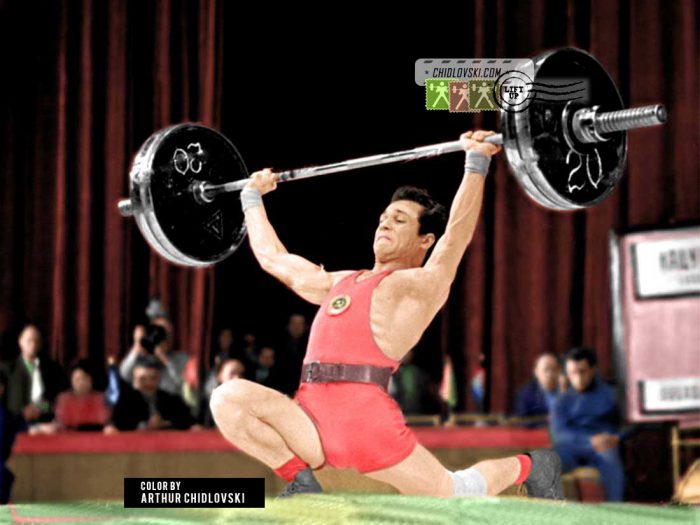 March 15, 1963, Moscow, Russia, USSR – Soviet featherweight Eugene Katsura of Kazan, Russia performs a split-style snatch in the 60kg class at the 1963 Prize of Moscow International tournament in Moscow. He won the 1st place with a 257.5kg total.
Eugene Katsura (1937-1967) was a very strong Soviet featherweight and lightweight athlete in the 1960s. His forte was an Olympic press lift. In his career, he set 7 world records in press and 2 in total of 3 lifts.
Katsura won medals at the World Championships in 1962 (silver) and in 1966 (gold), at the European Championships in 1962 (silver), 1964 (gold), 1966 (gold). In 1961-1966, he consistently won gold and silver medals at the USSR Championships including gold medals in 1962, 1964 and 1966.
The life of Eugene Katsura had a sad and tragic ending. At the age of 29, former weightlifting champion committed a suicide while serving as an officer in the Soviet Army.
At the time, the details of his death were not covered in the Soviet media. The fact of the Soviet World champion wasn't something to read about in the USSR. Only recently, some light was shed on the story about the last days of the champion.
After retiring from the sports, Katsura served as an officer in the Soviet Army and got engaged to the daughter of the Commander the Volga Military District. his commanding officer. Shortly before the wedding, they had an outdoor picnic.
Katsura was not a very experienced driver and forgot to use the emergency break when he parked his car up the hill. The young couple prepared the picnic setup right below the parking. Later, when the car started to move down, it ran over the bride and she was killed.
Realizing the consequences of the tragedy, Katsura shot himself.