John Davis (USA): The Last Time at the Worlds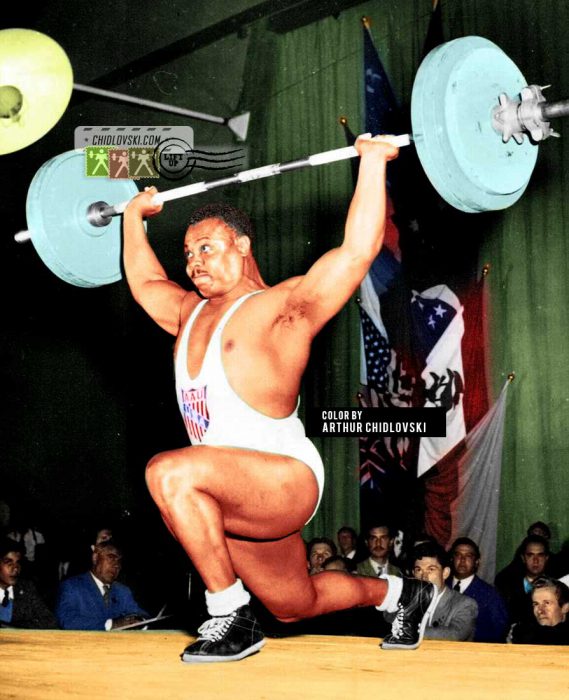 History in Color:
August 30, 1953, Stockholm, Sweden – Legendary U.S. heavyweight, 2x Olympic Champion, 6x World Champion John Davis of NYC, NY, USA competes in the 90+kg weight class at the 1953 World Championships.
The World title this time was won by Doug Hepburn of Canada. Davis finished second.
Davis was 32. He was injured. It was his last appearance at the Worlds.
---
John Davis (1921-1984) was truly a super legend of Olympic weightlifting. He was the heavyweight king of the world from the end of 1930s to mid 1950s.
Davis won the Summer Olympics in London (1948) and in Helsinki (1952) . The super heavyweight class at the time was 82.5+kg in 1948 and 90+kg in 1952. His bodyweight was 98.6kg and 104.3kg accordingly.
Davis won his first world title in 1938. He was 17. And then, 12 years later, he won his second one in 1946. By many accounts, Davis could have won a couple of more Olympics had they not been cancelled in 1940 and 1944 because of the World War II.
He also set 16 world records in his career.
John Davis was born and grew up in the NYC area. In his childhood years he was good in gymnastics. After the end of a weightlifting career he worked for years as a correction officer at the famous Rikers Island jail facilities.
Besides weightlifting, Davis had two big passions in his life. It was jazz and opera. He actually was a very good opera aria performer but couldn't pursue this career due to a chronic medical defect (hiccups).