Olympics in Tokyo: Bantamweights Champions In the Spotlight of Time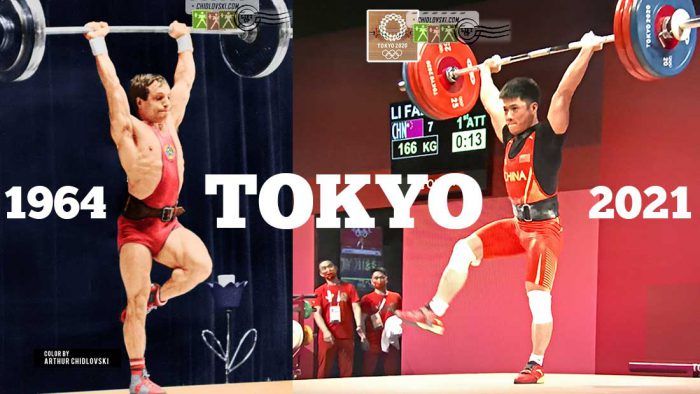 The "before and after" visual snapshot features two remarkable bantamweight champions of the Summer Olympics in Tokyo. Alexey Vakhonin of the USSR (left) won the bantamweight class in 1964 and Li Fabin of China did it also at the Tokyo International Forum arena today, July 25, 2021. Both Olympic champions featured an amazing one-leg stand during their performance for the Olympic gold medals.
It's not a new requirement for artistic component of weightlifting competitions – rather a personal style of showcasing strength on the competition platform.
For more information about Vakhonin's heroics in Tokyo in 1964, please read our Alexey Vakhonin Wins the Olympics in Tokyo story in the History in Color series. On the photo below, Li Fabin lifts a stylish cj opener on his way to the Olympic title at the 2021 Olympics in Tokyo.