Alexey Vakhonin Wins the Olympics in Tokyo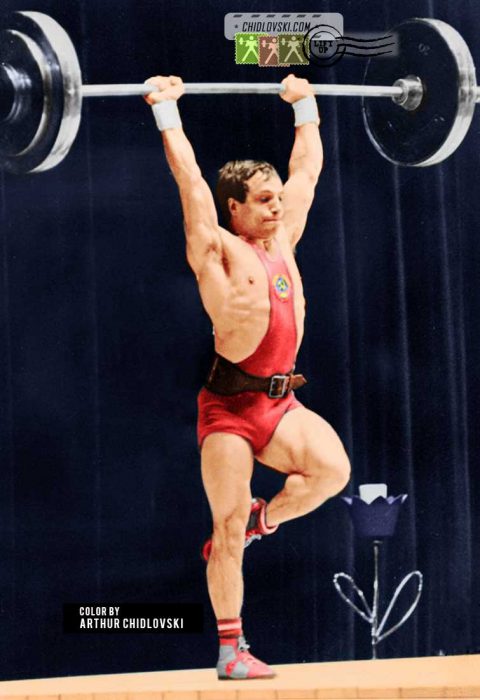 History in Color:
October 11, 1964, Tokyo, Japan – 29-year old Soviet bantamweight Alexey Vakhonin of Shakhty, Russia wins the gold in the 56kg class at opening night of the weightlifting tournament of the 1964 Summer Olympics in Tokyo.
The black-and-white original of this photo is one of the classics of inspirational photography in the history of this sport. Overall, my rule of engagement for creating a photo for the History in Color series is to have the original available only in black-and-white. In this case, I wasn't sure if there was a color original. There are great archivals photos taken from the 1964 Olympics in Tokyo both in black-and-white and color but I haven't seen a color version of this historical lift by Vakhonin. So, here it goes.
Alexey Vakhonin (1935-1993) was an outstanding Soviet bantamweight in the 1960s. Apart from becoming an Olympic champion in 1964, he won 3 World titles (1963, 1964, 1966) and 3 European titles (1963, 1965, 1966). On the national level, he won gold at 6 USSR Championships (1961-1964, 1966-1967) and at 2 USSR Spartakiades (1963, 1967). He set 4 world records and 20 national records in his career.
Vakhonin was a very memorable character. He was one of the best clutch lifters in the history of sports and showed his best under pressure of the competitions. In fact, the cover photo depicts his last attempt when he cj'd 142.5kg and set a world record in total (357.5kg).
The story says that a few minutes before this, he saw his main opponent Imre Foldi of Hungary celebrating a big lift and, in all probability, an Olympic title. Foldi had a lead at the moment.
Vakhonin asked his coaches:
"What's going on, pals?"
"Hungarians are celebrating the gold medal!" answered Arkady Vorobyev and Rudolf Plyukfelder.
Vakhonin looked again at the Hungarian team and said a phrase that can't be really published in the books:
"What the [blimp] do they know about the Soviet coal miners! Load 142.5!"
Vakhonin trained and lifted in the famous coal miners' town of Shakhty, Russia.
The rest is on the photo. Vakhonin clean-and-jerked 142.5kg and did this "one-leg" showcase holding the winning weight above his head.
To be fair, little that Vakhonin knew at the time but Imre Foldi also lifted for Tatabanya, Hungary, the city of strong weightlifters and… coal miners.
The end of Vakhonin's story is very sad. His life ended tragically – at 58, he was stabbed to death in an drunk fight by his own son.