Vasily Alexeev (USSR): World Record in Yerevan (1974)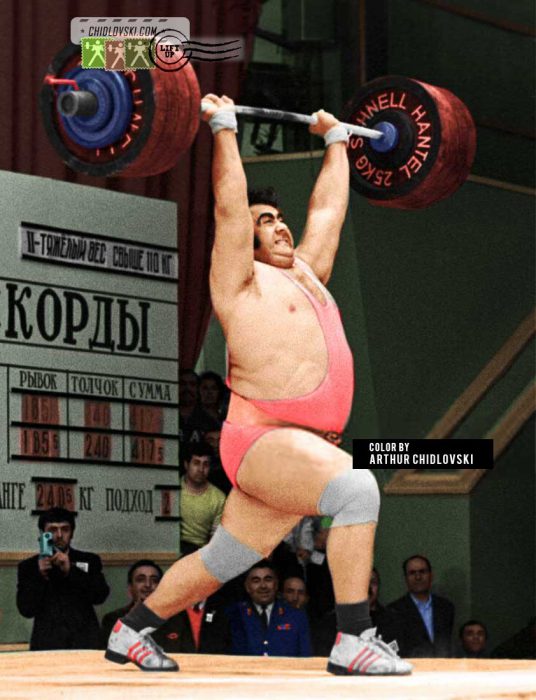 History in Color:
March 20, 1974, Yerevan, Armenia, USSR – Soviet super heavyweight giant Vasily Alexeev of Shakhty, Russia sets up a new world record in clean-and-jerk (240.5kg) in the 110+kg weight class at the 1974 Friendship Cup in Yerevan.
Legendary Alexeev won the first place with a 395kg (170+225) total. He had a rather shaky performance in the snatch when he missed 165kg in an opener, lifted 170kg in the 2nd attempt and then failed to snatch 180kg in the 3rd one. Khristo Plachkov of Bulgaria won the 1st place in the snatch. He also finished at 170kg but won having a lighter bodyweight that Alexeev.
In the clean-and-jerk, Alexeev stared with a 225kg lift and that gave him the 1st place with a 395kg total. He went for the world record (240.5kg) for his 2nd attempt (on the cover photo). Two referees gave him white lights for a good lift and one referee led a red light because his elbow touched a thigh when he cleaned the record.
It was the third and the last Friendship Cup in a remarkable career of Vasily Alexeev.