Coaches and Athletes: Yury Vlasov and Suren Bogdasarov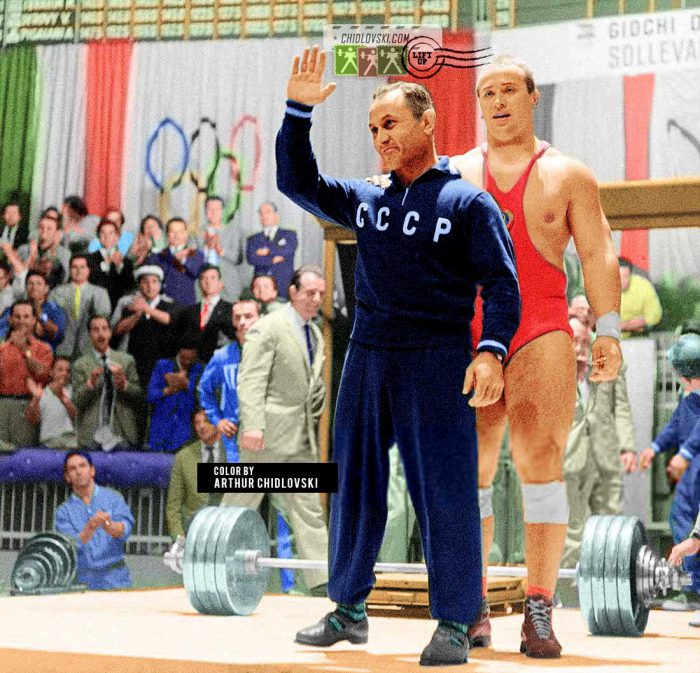 Remembering Yury Vlasov (1935-2021)
History in Color:
September 10, 1960, Rome, Italy – 24-year old super heavyweight Yury Vlasov of Moscow, Russia, USSR brings into a spotlight his coach Suren Bogdasarov after a gold medal at the 1960 Summer Olympics in Rome.
Yury Vlasov just won a gold medal in the 90+kg weight class in the last day of the weightlifting tournament at the 1960 Summer Olympics in Rome. His winning total was 537.5WR (180OR + 155OR+ 202.5WR). Vlasov managed to reach an unthinkable milestone for many years – he broke the world record in total (512.5kg) set by Paul Anderson (USA) in 1955.
Suren Bogdasarov (1920-2009) was a prominent lifter of the 1940s and one of the most respectful coaches of the Red Army and national weightlifting teams. The cooperation between Vlasov and Bogdasarov remains one of the greatest examples of coach-and-athlete relationships in the history of this sport.
The partnership of Yury Vlasov and Suren Bogdasarov produced many World and European titles, Olympic medals and over 30 world records. Even more important – it turned into a true friendship between two talented individuals that lasted for many decades. Way after Yury Vlasov retired from weightlifting competitions and became a successful writer and then got involved into the politics.