O Canada: Doug Hepburn and Dave Baillie (Vancouver, 1954)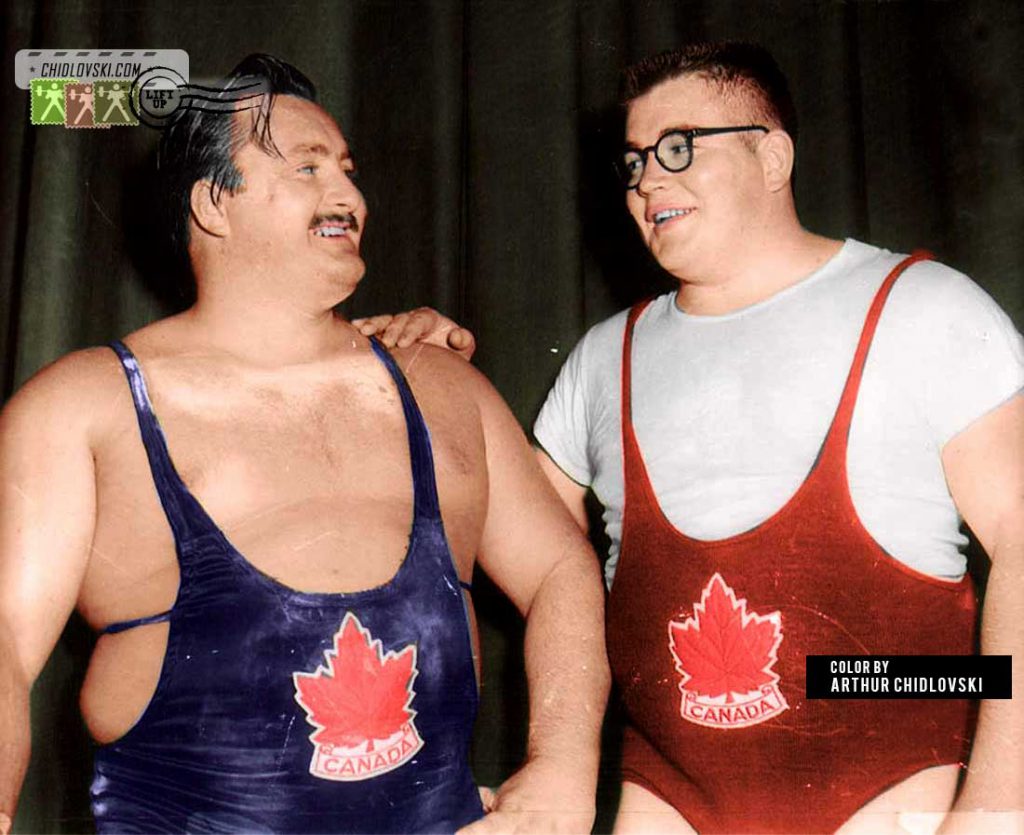 August 1954, Vancouver, British Columbia, Canada – Canadian heavyweights Douglas Hepburn and Dave Baillie celebrate their top medal awards after winning in the 90+kg class at the 1954 British Empire and Commonwealth Games at the Exhibition Gardens, Pacific National Exhibition in Vancouver.
Doug Hepburn finished with a new Games record, 470kg in total (167.5+135+167.5) and won the title of a heavyweight champion of the tournament. His teammate Dave Baillie became a vice champion of the 1954 Games.
Douglas "Doug" Hepburn (1926-2000) was definitely a cult strongman figure in the history of Iron Game. He set major records in the early decades of powerlifting and strongman's contests of his time. Hepburn's input into Olympic weightlifting was short and most impressive. In fact, he was rather a stand alone figure in the Olympic weightlifting establishment of Canada.
With all these said, Hepburn won the 1953 World Championships in Stockholm and became the first Canadian World Champion in weightlifting. A year later, Doug won the 1954 British Empire and Commonwealth Games in front of the home crowd in Vancouver. During his brief stint in Olympic weightlifting, Hepburn set 8 world records. All of them were in the press lifting.
Baby-faced champion David "Dave" Baillie (1928-1977) was a 3x Olympian of Team Canada. He competed for his nation in the 90+kg weight class at the Summer Olympics in Helsinki (1952, 5th place), in Melbourne (1956, 6th place) and in Rome (1960, 6th place). He also was a 2x silver medalist of the British Empire and Commonwealth Games in Vancouver (1954) and in Cardiff (1954).