Blagoy Blagoev (Bulgaria): 1980 Olympics in Moscow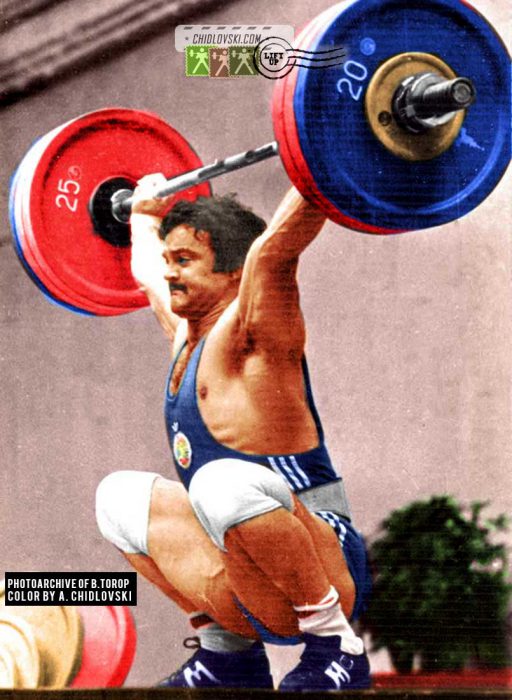 History in Color:
July 26, 1980, Moscow, Russia, USSR – 24-year old light heavyweight of Team Bulgaria, Blagoy Blagoev  competes in the snatch program in the 90kg weight class at the 1980 Summer Olympics in Moscow.
Blagoev won a silver Olympic medal with 372.5kg (175+197.5) in total. It was the second Olympics for Blagoy Blagoev. He also represented his native country Bulgaria at the Summer Olympics in Montreal (1976).
Blagoy Blagoev (b. 1956) needs no special introduction for true followers of the Iron Game. In fact, many of them perhaps would name him as the best weightlifter of their choice. He was a true magician of a snatch lift. In his career, he set 18 world records. 13 of them were in the snatch.
His last snatch world record was 195.5kg in the 90kg weight class. It was set on May 1, 1983 in Varna, Bulgaria and still remains the heaviest weight ever snatched by middle heavyweights!
Blagoy Blagoev competed in the 82.5kg and 90kg weight classes. He was a 3x World Champion (1981, 1982, 1983) in the middle heavyweight. He won 4 gold European medals – as a light heavyweight in 1979 and as a middle heavyweight in 1981-1983. He also won 3 consecutive World Cups in Varna, Bulgaria in 1982-1984 and 5 Bulgarian Championships (1979, 1981-1984).