U.S. Weightlifting Team at the I Pan American Games in Buenos Aires (1951)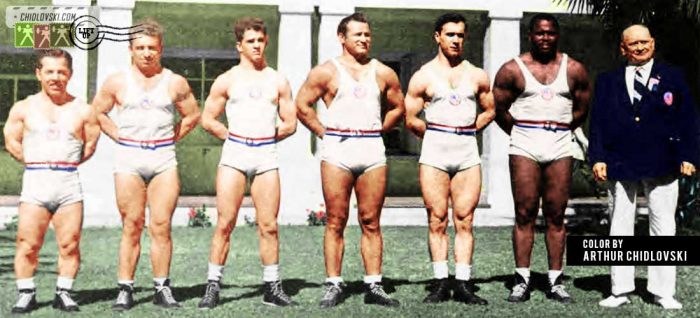 History in Color:
Buenos Aires, Argentina, March 1951 – U.S. Weightlifting team at the 1951 Pan American Games in Buenos Aires (left to right*):
Joe DiPietro (Paterson, NJ, 56kg, gold medal), Joe Pitman (Chambersburg, PA, 67.5kg, gold medal), Dick Greenawalt (Columbus, OH, 60kg, silver medal), Stan Stanczyk (Miami, FL, 82.5kg, gold medal), Peter George (Akron, OH, 75kg, gold medal) John Davis (Brooklyn, NY, 82.5+kg, , gold medal), Dietrich Wortmann ( New York, NY, Manager).
* Team coach Bob Hoffman (York, PA) is not present in the photo.
It was the first Pan American Games and the U.S. weightlifters had an outstanding performance. They won 5 gold medals and one silver and dominated in this sport. Olympic champion, heavyweight John Davis won the gold and set three world records (snatch, clean-and-jerk and total) in the last day of the Olympic weightlifting tournament.