Aslanbek Yenaldiev: At the Introduction Ceremony in Vilnius (1975)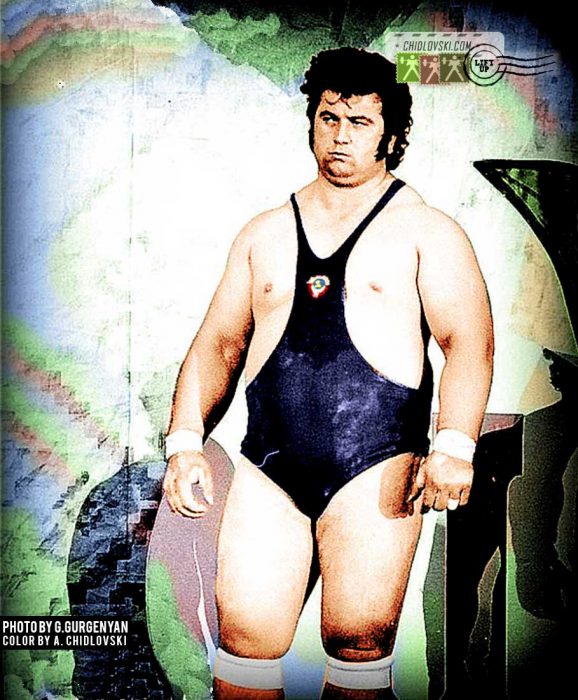 History in Color:
July 11, 1975, Vilnius, Lithuania – 27-year old super heavyweight giant Aslanbek Yenaldiev is being introduced as a contender in the 110+kg class at the 1975 USSR Spartakiade and 1975 USSR Championships in Vilnius. He received a bronze medal with a 390kg (162.5+222.5) total
Aslanbek Yenaldiev (1948-2015) was one of the strongest Soviet super heavyweights of the 1970s. He competed in the 110kg+ class for the Spartak Club of Ordzhanikidze. On the national level, he won the USSR Championships in 1977, the USSR Cup in 1975, 1976, 1979 and 1980, won gold medals in the USSR Championships in snatch (1975, 1979) and clean-and-jerk (1975, 1976, 1979, 1980).
On the international arena, Aslanbek was mostly remembered as a back-up of legendary Vasily Alexeev in the super heavyweight class. For the majority of fans, he looked almost like "mini me" of Alexeev and the common opinion was that he wasn't ambitious enough to challenge the Legend and that, in a way, suited both athletes. Needless to say, that view was not fair to Aslanbek.
In the last few years I managed to speak to many members of Team USSR Weightlifting of the 1970s and ALL of them had a very high opinion of Aslanbek Yenaldiev and named him as a true gentleman and one of the best best teammate they ever had.
As a member of the Soviet national team, Yenaldiev became a vice champion of the World and Europe in 1977 and won several Friendship Cups (1977, 1978)
Aslanbek Yenaldiev was a member of Club 500 with 525kg total of 3 lifts (180+145+200). His bodyweight at the time was… 119.7kg.
In a 2-lifts era, Aslanbek Yenaldiev personal best was 435kg total (187.5+247.5) on December 18, 1976 in Sverdlovsk, Russia. His bodyweight was 151.7kg.