1980 USSR Championships: Super Heavyweight Medalists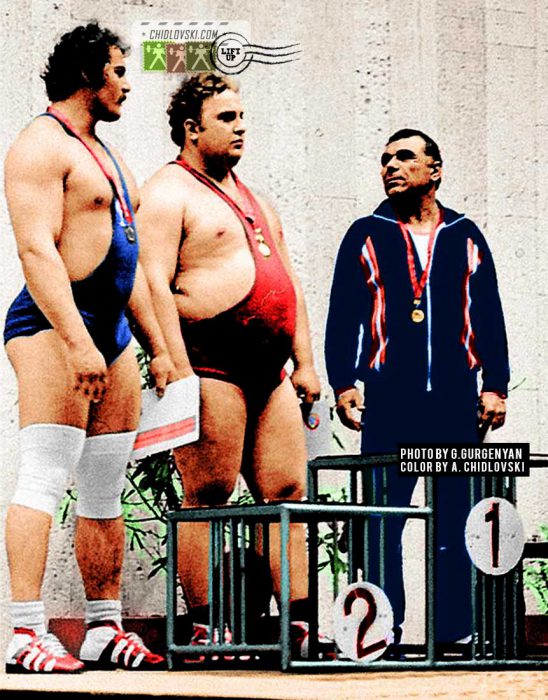 History in Color:
May 18, 1980, Moscow, Russia – Soviet super heavyweights receive their medals in the 110+kg class at the 1980 USSR Championships in Moscow (left to right):
Anatoly Pisarenko (silver medal, Dinamo Kiev), Vladimir Marchuk (gold medal, Burevestnik, Moscow) and Mikhail Akopyants, personal coach of Marchuk.
No bronze medal was awarded.
At the 1980 USSR Championships held before the 1980 Olympics, there were 143 participants in 10 weight classes and 51 (!!!!) of them bombed out. In the super heavyweight class, only two athletes were listed as medalists. Vladimir Marchuk won a gold and Anatoly Pisarenko won a silver medal.
The rest were disqualified because they failed with their lifts. None of them competed at the Olympics.
Marchuk won gold medal with a  427.5kg (185+242.5) total. It was his his first and last national title. Neither Vasily Alexeev nor Sultan Rakhmanov (main super heavyweight candidates to the Olympic Team USSR in 1980) competed in the tournament. The silver medal went to the 23-year old Anatoly Pisarenko of Kiev.
The 1980 USSR Championships was held at the Izmaylovo Sports Arena that was built for the 1980 Summer Olympics. However, with two months left to the Olympics, the arena was still under construction in May 1980.
"What a championship it was! " Sergey Artamonov, one of the officials of the tournament, told me in a recent interview. "There were no audience in the Izmaylovo arena during the 1980 USSR Championships. No viewers were allowed to attend it because of the safety issues.  The arena was still under construction."
The Soviet Federation made the 1980 national championship mandatory for all candidates to the Team USSR Weightlifting in order to be selected for the 1980 Olympics. However most of the top lifters didn't compete and there were only a few who actually took part in the Moscow Olympic tournament in July 1980. Only Kanybek Osmonaliev (52kg) Viktor Mazin (60kg) and Igor Nikitin (100kg) won the 1980 USSR Championships and went on to represent the country at the Olympics.