Masashi Ohuchi (Japan): World Record in Warsaw, 1969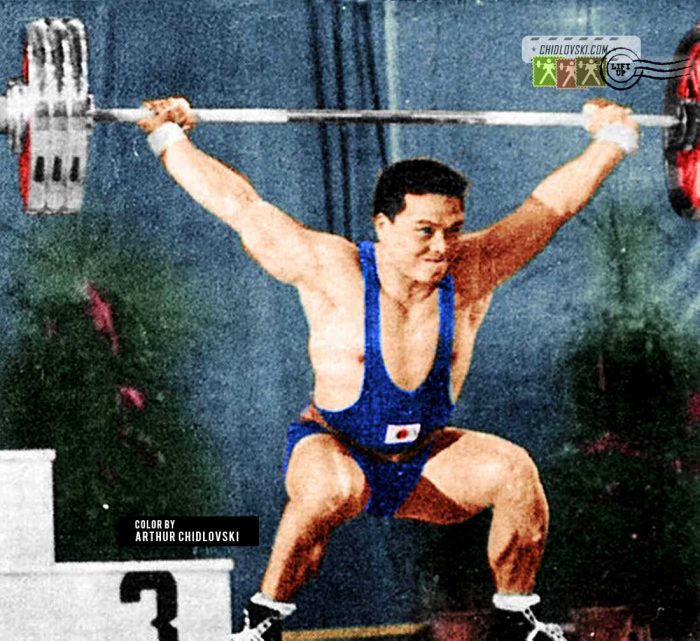 History in Color:
September 25, 1969, Warsaw, Poland –25-year old Masashi Ohuchi of Team Japan sets a new world record in the snatch lift (152.5kg) and wins the gold in the 82.5kg weight class at the 1969 World Championships in Warsaw.
In his remarkable career in sports, Masashi Ohuchi set 8 world records and 6 of them were in the snatch. The record in Warsaw was the last world record set by Ohuchi. It was also the first and last time when Ohuchi won a world title.
Masashi Ohuchi (1943-2011) was one of the best athletes that competed in the middle and light heavyweights during his time in Olympic weightlifting.
He represented Japan at two Summer Olympics (1964, 1968) and won a silver (75kg, Mexico City, 1968) and a bronze medals (75kg, Tokyo, 1964). In addition to his gold performance in Warsaw in 1969, Ohuchi won a 1964 bronze and 1968 silver medals at the World Championships held at the Olympics.
Masashi Ohuchi also won the gold at the Asian Games in 1966 and 1970 and took the 2nd place at the 1967 Little Olympics in Mexico City.
Masashi Ohuchi was a policeman by trade and worked as head coach of the Tokyo Metropolitan Police Department. He also served as an Executive Board Member of the Japanese Weightlifting Association.