Charles Rigoulot (France)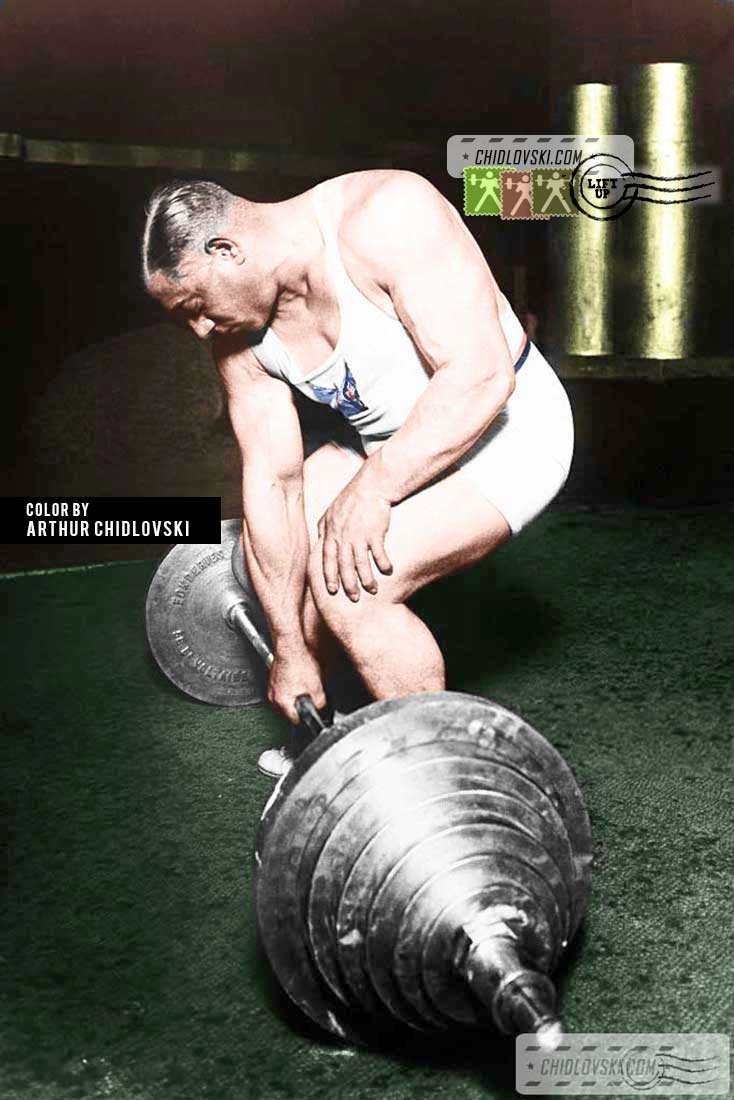 On November 3, 2019, legendary strongman, Olympic champion Charles Rigoulot (1903-1962) would have celebrated his 116th Birthday!
On the History in Color cover photo,  Charles Rigoulot is shown training in France in May 1931. At the time he was 28 and known as the Strongest Man in the World.
Charles Rigoulot (1903-1962) was perhaps one of the first Olympic weightlifters whose fame went far beyond his titles and results purely in weightlifting competitions. He was an Olympic champion in weightlifting, professional wrestler, racing car driver, strongman, circus performer, actor and, in many ways, a true symbol of France for his achievements in sports and his legendary heroics in World War II.
Rigoulot began weight training early in his life – when he was a child age. When he was 19, he competed for France at the 1924 Summer Olympics in Paris and won a gold medal in the 82.5kg weight class. There were 5 lifts in the competition at the time (one-hand snatch, one-hand clean and jerk, military press, two-hand snatch, and two-hand clean-and-jerk). Rigoulot totaled 502.5kg (87.5+92,5+85+102.5+135) in a very close contest vs. Leopold Friedrich of Austria and Fritz Hanenberger of Switzerland. In many ways, it was also a competition between two weightlifting philosophies of the time – the French and Continental style of lifting.
Between 1924 and 1926, Charles Rigoulot set 8 world records in Olympic weightlifting.
In 1930, Rigoulot became the 1st man to officially lift Louis Uni's famous Apollon Railway Wheels, a set of railway wheels connected by an axle and weighing 366 pounds (166kg).
In the 1930, Rigoulot performed his strongman act in the circus. in 1937, Rigoulot competed as a race car driverin the endurance challenge 24 Hours of Le Mans. Rigoulot won the 1937 Bol d'Or driving a blue Chenard & Walcker race car.
During the World War II,  Charles Rigoulot was a part of the French Resistance. He got arrested after punching a Nazi on the street. The story says that he managed to escape from prison with his fellow inmates after Rigoulot bent the bars of his cell.
After the war, Charles Rigoulot worked as the sports director of a French distillery. He died at 59 of a heart attack in 1962.