Coming From America (1938)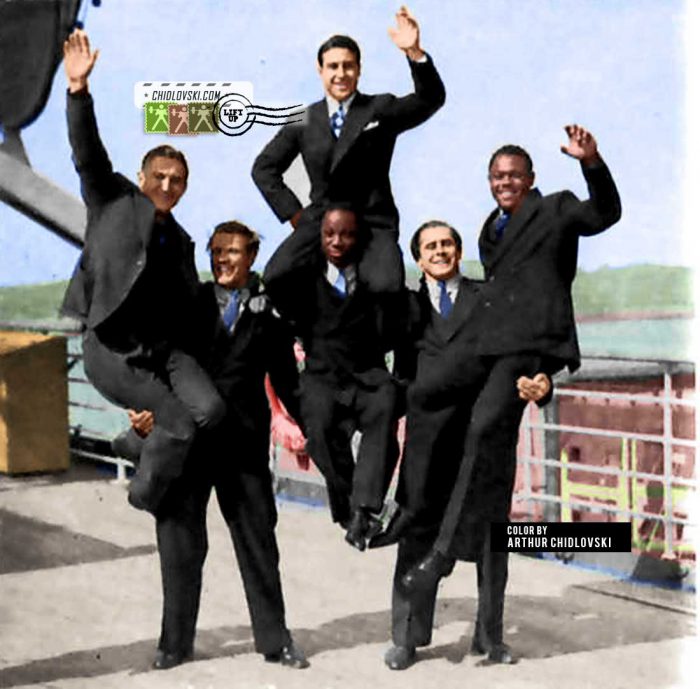 October 1938 – American weightlifting team is on its way to the 1938 World Championships in Vienna (left to right):
John Terpak (75kg), John Grimek (82.5kg), John Terry (60kg), Tony Terlazzo (67.5kg), Steve Stanko (82.5+kg), John Davis (82.5kg)
The U.S. weightlifting was gaining a momentum and moving from a peripheral weightlifting nation on the world map to the elite power in the international Olympic weightlifting. Bob Hoffman of the York Barbell sponsored the trip to Europe and John "Donna" Fox, captain of the American 1936 Olympic bobsled team, was a team manager.
Team USA won 2 world titles in 1938 – world featherweight superstar Tony Terlazzo won a gold medal in the lightweight class and 17-year old rising star of the U.S. and world Olympic weightlifting John Davis won in the 82.5kg class.
Steve Stanko became a vice champion in 82.5+kg category. John Terpak won a bronze medal in the 75kg. Legendary bodybuilder and U.S. Olympian John Grimek took the 4th place in the light heavyweight class.
The 1938 World Championships brought together 46 athletes from 17 countries. Germany won the 1st place. USA was 2nd and Italy 3rd. This was the last World championship before the beginning of the WWII.
The war was in the air in Europe.  In less than a year, the WWII began and no world championships were held.