Jim Halliday (Great Brirain): "This One Is For You, Your Majesty!"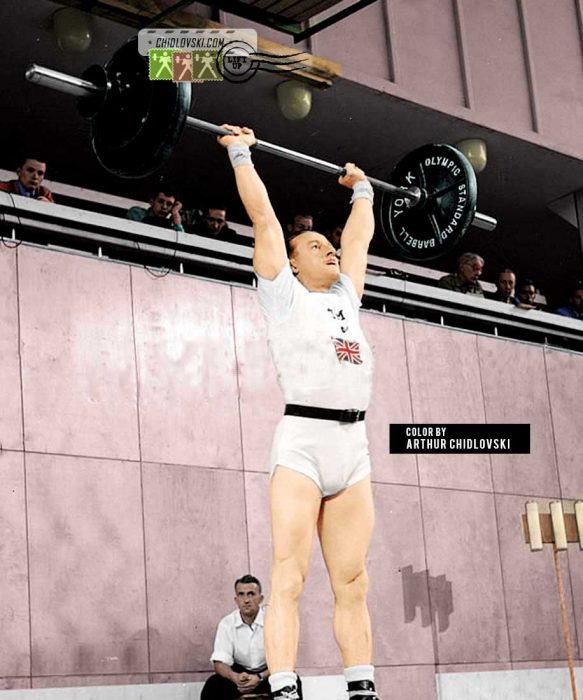 History in Color:
July 26, 1952, Helsinki, Finland – Olympic medalist, lightweight Jim Halliday competes for the United Kingdom in the 67.5kg weight class at the 1952 Summer Olympics in Helsinki.
James "Jim" Halliday (1918-2007) was one of the most memorable weightlifting characters of the post World War 2 decade in Olympic weightlifting. He earned his nickname "Jumping Jim" after developing a crowd entertaining routine of jumping over the bar while celebrating good lifts on the competition platform.
Halliday was a 2x Olympian and represented Great Britain at the Summer Olympics in London (1948) and Helsinki (1952). In 1948, Jim Halliday was a captain of the national weightlifting team and won a bronze medal in the 67.5kg weight class. He also won gold medals at the British Empire Games in Auckland (1950) and in Vancouver (1954).
In addition to his heroics in sports, Jim Halliday was a decorated World War 2 veteran. He enrolled into the Army at the beginning of the war and was a part of the battle of Dunkirk in Europe and war operations in the Far East. He was captured by the Japanese troops and, as a POW, worked for 4 years on the Japanese Death Railway. When he was released from the camp in 1946, his bodyweight was 38 kg.
After the war, Jim Halliday worked for the British Railways and, later in his carer, became a chief safety officer and trained workers how to handle heavy lifting or dig holes.
The title line of the lift dedication to Your Majesty was obviously a bit of a "lip reading" on our side. Considering that Britain got a new monarch, 26-year old Queen Elizabeth II in February 1952, a few months before the Summer Olympics in Helsinki, we won't be surprised that the dedication phrase was actually said during the lift shown on the cover photo.