Tony Urrutia (USA) at the 1988 Friendship Cup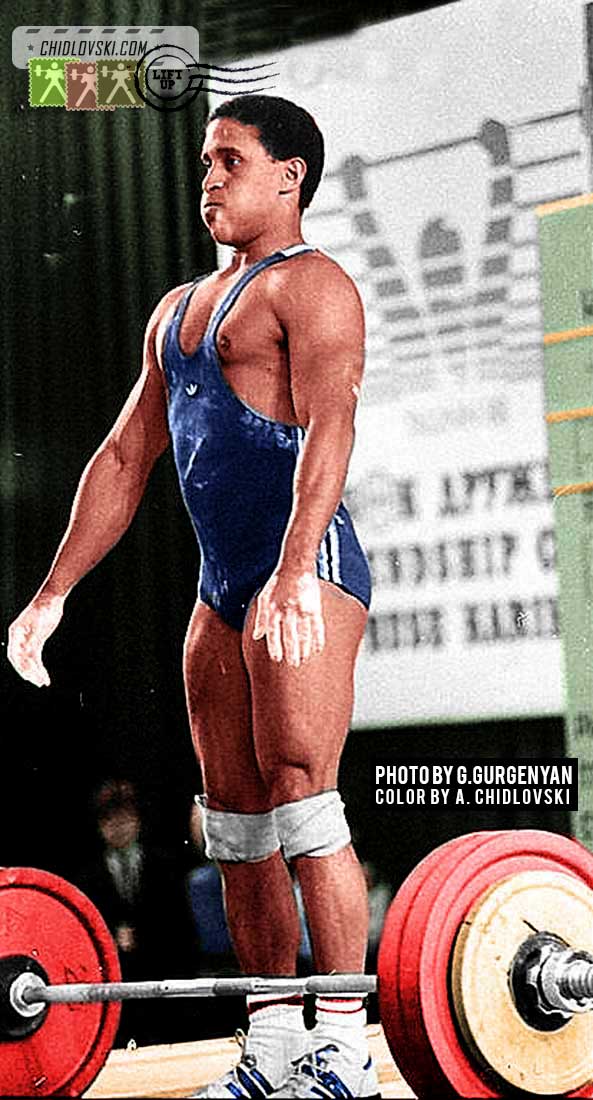 March 3, 1988, Tallinn Estonia – 29-year old middleweight Roberto "Tony" Urrutia competes for Team USA in the 75kg weight class at the 1989 Friendship Cup in Tallinn.
Roberto "Tony" Urrutia (born in 1957) was the first Cuban weightlifter ever to set a world record (1975) and to win a world title (1977).
On December 25, 1975, 18-year old junior lightweight Roberto Urrutia snatched 138.5kg and set the first world record ever for Cuba. In 1977, he won the World Championship in the 67.5kg class in Stuttgart, Germany. It was the first gold medal won by Cuban athletes at the Worlds. While competing for Cuba, Roberto won three World championships (1977-1979), two Pan American Games (1975, 1979), took the 4th place at the 1976 Summer Olympics and set 6 world records. He was one of the most prominent athletes in his country and enjoyed privileged life of elite weightlifting celebrity in Havana.
Before the 1980 Summer Olympics in Moscow, Urrutia defected to the United States. In the late 1986, Roberto Urrutia became a U.S. citizen and decided to make a huge comeback to the sport of Olympic weightlifting. In the USA, Roberto Urrutia was mostly known as Tony Urrutia.
He won 5 national titles in the United States (1987–1989, 1991, and 1992), won a bronze medal at the 1987 Pan Am Games and went on to represent the USA at two more Summer Olympics in his life (1988 and 1992).