The Best of Georgia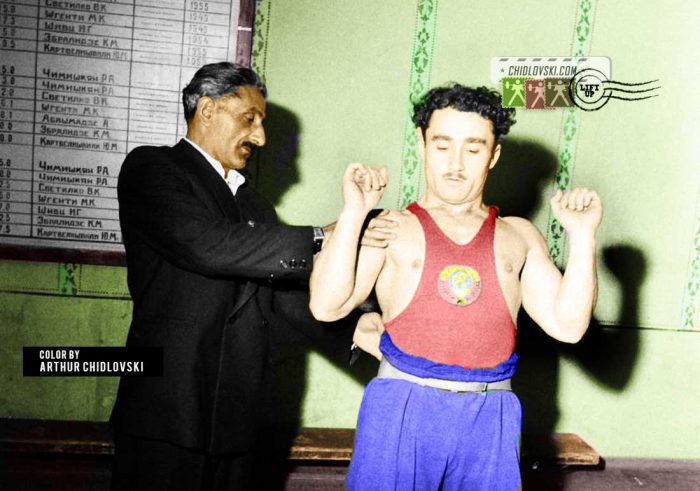 The enhanced cover photo from the Lift Up: History in Color series features Rafael Chimishkyan and his coach Pavel Gumashyan in their training gym in Tbilisi, Georgia in 1956. At the time, Chimishkyan was preparing for the Olympic games in Melbourne.
Both took the first position on the top Georgian athletes and coaches lists of the 20th century selected by the weightlifting federation of Georgia in 2001.
Rafael Chimisjkyan was No. 1 on the Best 10 lifters. The other athletes on the top list were Kakhi Kakhiashvili, Dito Shanidze, George Asanidze, Vladimir Svetilko, Moisey Kasyanik, Mukhran Gogia, Bidzina Mikiashvili, Konstantin Zhgenty and George Kochiev.
Pavel Gumashyan was No. 1 on the Best 3 coaches of Georgia followed by Ivan Grikurov and Mamia Zhgenty.
As an athlete, Pavel Gumashyan (1910-1995) was one of the pioneers of Olympic weightlifting in Georgia. During World War II, he served in the Soviet Army and was severely wounded in the Kharkov battle.
The was wounds didn't allow him to compete again when he came back to Tbilisi and Gumashyan turned into coaching. He coached Team Georgia in the 1940s and 1950s.
Gumasyan worked with such world class athletes as Rafael Chimishkyan, Vladimir Svetilko, Moisey Kasyanik, Akop Faradzhan, Mamia Zhgenty and more.
The photo rolls back the time to 60 years ago.
Chimishkyan is 27. Gumashyan is 46.
Chimishkyan is is in his prime. He won the 1952 Summer Olympics and is getting ready for the new challenge – his second Olympics to be held in Melbourne, Australia.