Josef Manger (Germany)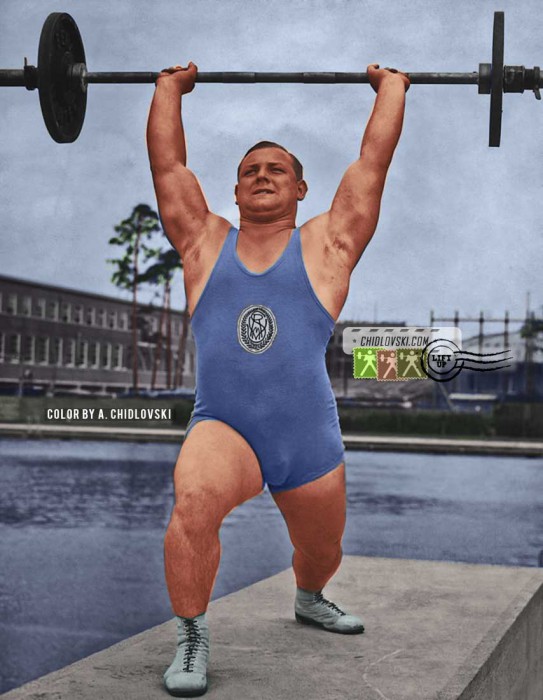 History in Color features Olympic champion and pre-WW2 world strongest heavyweight Josef Manger of Bamberg, Germany.
Josef Manger (1913-1991) began his career in sports with wrestling. At a young age, he joined the SC Roland Bamberg wrestling team. Later he switched to weightlifting and, at 21, he took the 6th place at the 1934 German Championships in Nuremberg.
He was strong but had no techniques and experience in weighlifting. So, he began training under the guidance of legendary Rudolf Ismayr, Olympic champion of 1932.
The improvements were drastic and Manger was sent to compete for Germany at the 1934 European Championships in Genoa where he won a silver medal in the heavyweight class. The next year, Manger won the European title at the 1935 European Championships. In 1935, Manger also became the first man in the world to total 400kg.
In 1936, he reached the biggest success of his career – Manger won the gold in the 82.5kg class and became an Olympic champion with a world record in total 410kg.
Prior to WW2, Manger secured the title of the strongest weightlifter with two golds at the World Championships in 1937 and 1939. Manger was 167cm tall and his heaviest competition bodyweight was 109,5kg.
Due to the beginning of WW2, there was no 1939 World Championships. Josef Manger was 26 and remained unbeaten. He wasn't noticed in any special ties with the Nazi leadership and wasn't involved in the war crimes. Obviously, his phenomenal results of the time were used for Nazi propaganda but Manger himself kept a low profile. He worked as a taxman and a businessman in his hometown.
He won 6 German championships (1935-1941) In 1942, he lost the title Theo Aaldering. After the war rarely appeared in weightlifting events.
In 1991, Manger died at the age of 77.