Polska Slawa: Three Milestone Lifters of Team Poland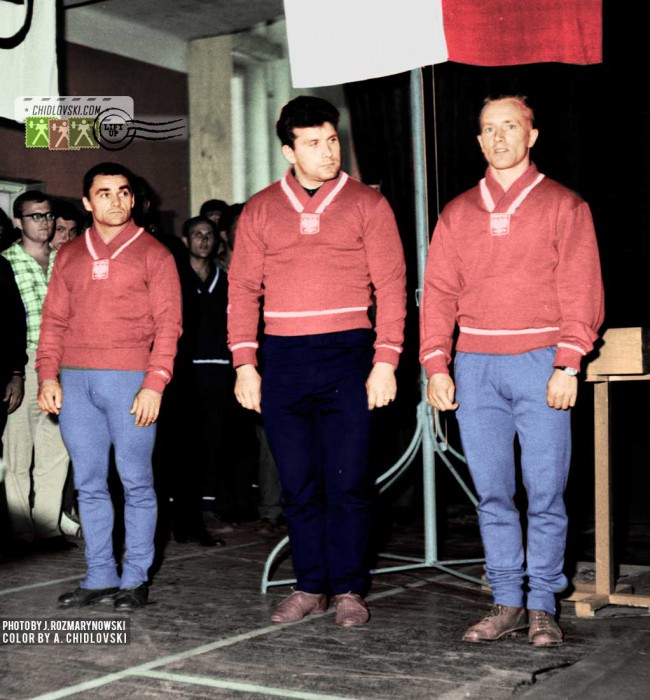 History in Color cover photo features three top stars of Polish Olympic weightlifting (left to right):
Marian Zielinski (1929-2005, 60/67.5kg);
Ireneusz Palinski (1932-2006, 82.5/90kg);
Waldemar Baszanowski (1935-2011, 67.5/75kg)
Polish weightlifting produced many world famaous outstanding Olympic weightlifters. Besides many titles, awards and records, the three weightlifting stars on the photo are perhaps main milestone lifters of Team Poland.
Marian Zielinski was the 1st Polish weightlifting Olympic medalist (1956, 60kg, bronze), 1st Polish weightlifting World champion (1959, 60kg, gold) and set the first Polish world record (1958, 60kg, 112.5kg snatch). Ireneusz Palinski was the 1st Polish weightlifting Olympic champion (1960, 82.5kg, gold).
Waldemar Baszanowski was the best all-time Polish Olympic weightlifter and one of all-time greats in this sport. He was a 2x Olympic champion, 4x Olympian, 5x World and 5x European champion. He was the 1st in the world to cj 2.5 bowyweights. Waldemar Baszanowski set  24 world records, the most among lightweight athletes of all times and nations.