Photo Report: Tokyo International (1979)
Here goes a quick photo report on the 1979 Tokyo International weightlifting tournament that was held on December 1, 1979 in Japan.
Original photo source is available here.
About the Tournament
It was an invitational tournament that brought together such high-caliber athletes as Sultan Rakhmanov, Viktor Okorokov (both USSR), Gerd Bonk (East Germany), Mark Cameron (USA), Mark Cardinal (Canada), Joukko Leppa (Finland), Rudolf Strejcek (Czechoslovakia) and… the legend of legends Vasily Alexeev (USSR).
The final list of the winners included:
Sultan Rakhmanov (USSR) – 410kg
 Viktor Okorokov (USSR) – 390kg
. Marc Cardimal (Canada) – 387.5kg
---
Thoughts and Commentaries by Lift Up
The original source was in Japanese and it's not my forte at all. What caught my attention was Vasily Alexeev wearing a blue singlet and blue weightlifting shoes which I've never seen before… In the background there is a recognizable figure of Sultan Rakhmanov. The electronic display says "Snatch", WR – 200.5kg. and confirms that it is V.Alexeev. On the other hand, it doesn't look like Alexeev is snatching and there is no display what poundage was  loaded.
Based on the plates and colors, there is about 155kg above the legendary super heavyweight head. Far below his level, least to say. I looked at the other photos and came up with the assumption that Vasily Alexeev was a guest lifter in Japan and the photo of his clean-and-jerk was made before the actual competition began.
Needless to say, Vasily Alexeev got injured at the 1978 World Champoinships and didn't compete until the 1980 Summer Olympics in Moscow. At the Olympics, Alexeev failed to snatch the opening 180kg and bombed out. There were many controversies related to Alexeev's performance in 1980. He didn't compete for almost 2 years and it was a very long time. Especially, at 38. In the post-Olympics interviews, Alexeev said that he was in a good shape but there was a plot aagainst him by his opponents and he was poisoned by them prior to the opening snatch.
With all these said, it was an interesting find that Alexeev did appear in some public lifting within these 2 years prior to the 1980 Olympics tournament.
In any case, it would be interesting to hear if we were right with figuring out the story of the tournament and, if more details about the event are known. Perhaps, Mark Cameron has some recollection of this day in Tokyo.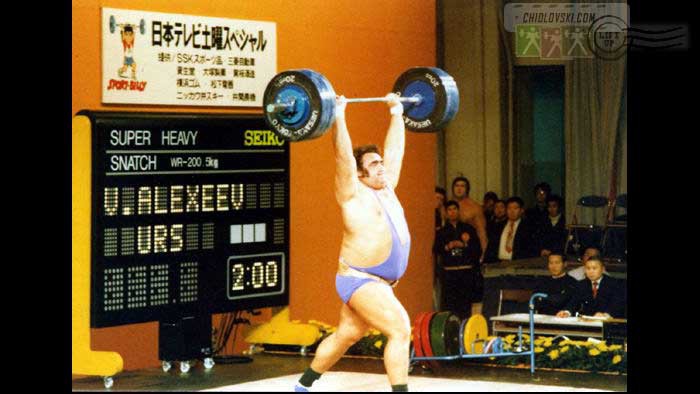 ---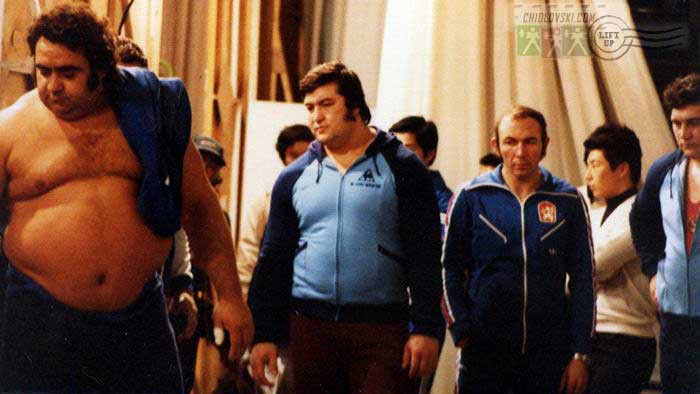 Left to right:
V.Alexeev, S.Rakhmanov, Emil Brzoska (Team Czechoslovakia, Head Coach), V.Okorokov
---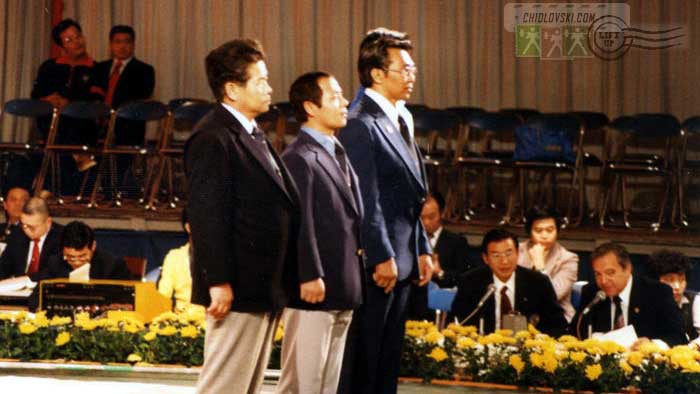 Tomas Ajan (Hungary, IWF Secretary) introduces the officials.
2nd left is legendary Yoshinobu Miyake (Japan). 3d left is Tommy Kono (USA)
---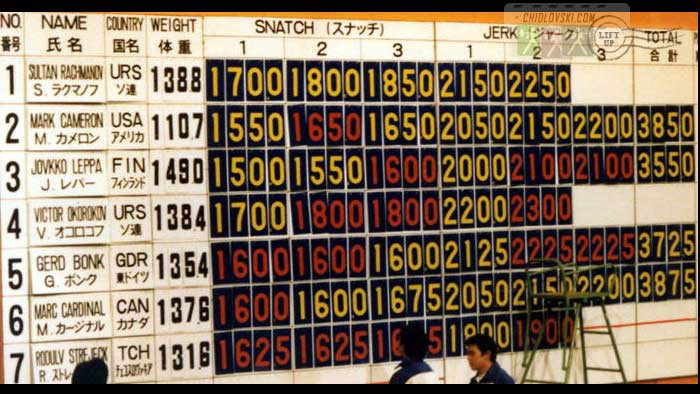 The scoreboard of the tournament.
---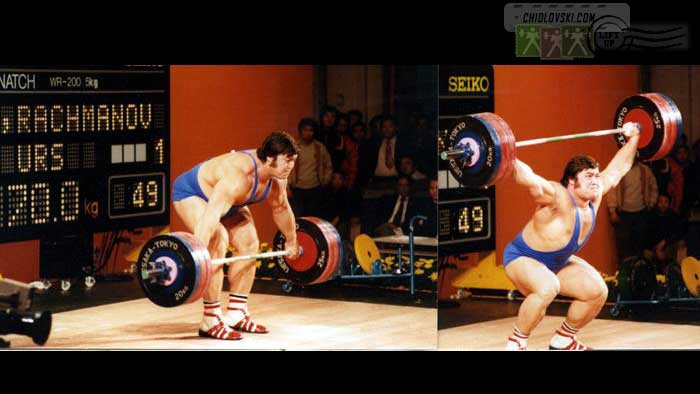 Sultan Rakhmanov snatches 170kg in his 1st attempt.
---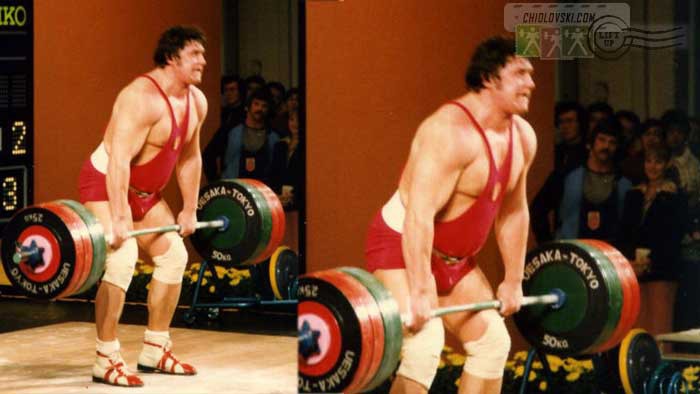 Viktor Okorokov goes for 230kg in his 2nd clean-and-jerk attempt. Mark Cameron of Team USA is seen in the background.
---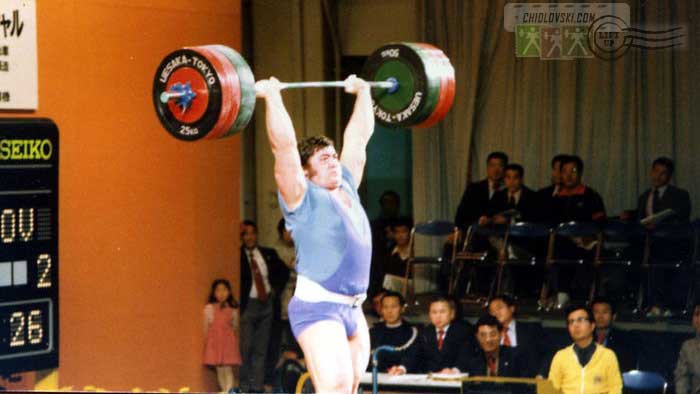 Rakhmanov does a 225kg clean-and-jerk as his 2nd attempt.
---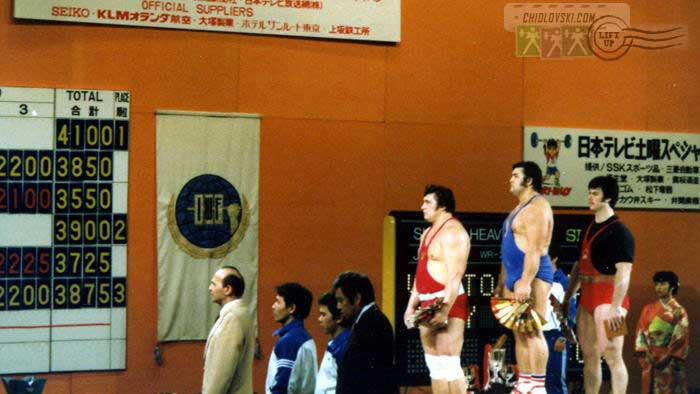 And the winners are… Gottfried Schodl, IWF President and the medalists (left to right) V.Okorokov (2), S.Rakhmanov (1) and M.Cardinal (3).
Special thanks to Leonid Itunin of Ryazan, Russia and Leonid Pavlyuk of Angarsk, Russia for their input and help in analyzing these historically priceless archival photos.