Yordan Bikov of Pazardzhik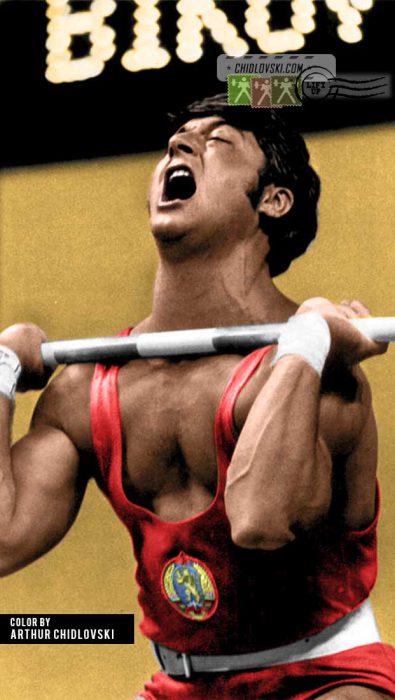 History in Color:
20-year old middleweight Yordan Bikov of Pazardzhik, Bulgaria is on his way to win the Olympic gold medal in the 75kg class at the 1972 Summer Olympics in Munich, Germany.
Yordan Bikov (b. 1952) became the second Bulgarian weightlifter to win the Olympics. The first one was Norair Nurikyan who won the title a couple of days earlier in Munich.
Bikov was a very strong and talented athlete. He won the gold medals in the middleweight at the 1972 Summer Olympics, World championship and European Championship. He also set a world record in total (485kg) in Munich'72. On the national level, Yordan won Bulgarian championships in 1970, 1971, 1972.
Yordan Bikov was a part of the first wave of weightlifters that were trained by legendary Bulgarian coach Ivan Abadzhiev and that showed outstanding results at the 1972 Summer Olympics.
Needless to say, the relationships between Yordan Bikov and Ivan Abadzhiev were rather bumpy. Abadzhiev's favorite in the 75kg class was Nedelcho Kolev who didn't ask too many questions and was more open and responsive to the Abadzhiev's style and methodology. At the time, Bikov seemed very reluctant to the usage of pharmacology in training and created problems with questioning the need for it. He also had arguments with the head coach over the payment issues. All of these were rather annoying for the new national coach of Team Bulgaria who had a very ambitious plans for the team in the upcoming competitions.
In 1973, Bikov finished second after his teammate Kolev at the Europeans in Madrid, Spain.
In 1975, Yordan Bikov retired from weightlifting as an athlete.
Later on, the relationships with Abadzhiev normalized and the legendary Bulgarian coach helped Bikov in his learning and studying to become a coach himself.
Bikov coached in his home town of Pazardzhik and trained Olympic weightlifters in China.