Team USA 1946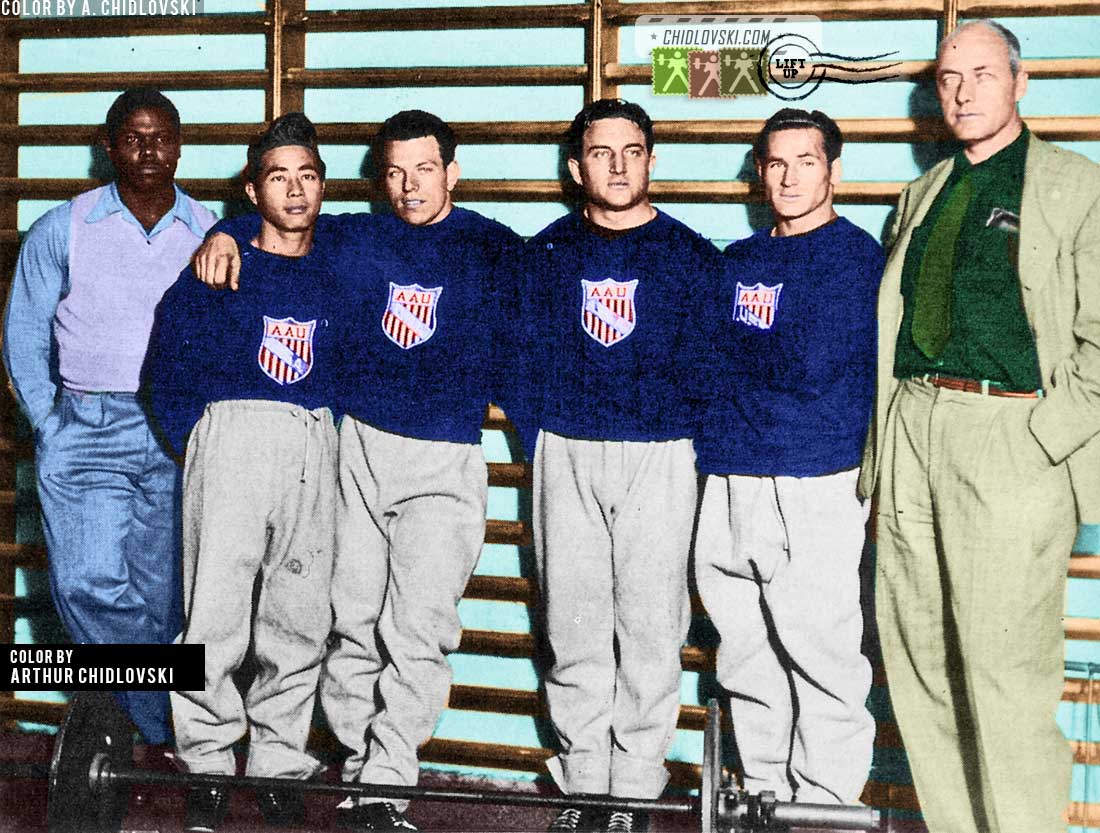 The "History in Color" series presents a glimpse on one of the most memorable Team USA Weightlifting that won the 1946 World Championship in Paris, France.
Left to right:
John Davis (82.5+kg, gold medal), Emerick Ishikawa (60kg, 6th place), Frank Spellman (75kg, bronze medal), John Terpak (75kg, silver medal), Stanley Stanczyk (67.5kg, gold medal), and coach Bob Hoffman.
Note: Member of Team USA 1946, Frank Kay wasn't a part of this photo session. He won silver medal in the 82.5kg class.
The black-and-white original of this photo appeared in the "Strength and Health" magazine with a caption:
"The first American team to lift against the Russians, the 1946 World's Championship Team. The Russians entered ten lifters to 6 for the U.S., but our team came back with the team championship."
As old Russian saying goes "every coin has two sides" and obviously, in this case, Soviets had a different view on the 1946 Worlds in Paris.
It was the first ever world championship that the Team CCCP went to participate in. The team mostly consisted if aging athletes that lifted before World War II. Grigory Novak won gold medal in the 82.5kg weight class and became the first ever Soviet World champion – not just in the weightlifting but overall. It was a huge success for Novak and he became a national hero in the Soviet Union and a definite personal favorite of Joseph Stalin.
Despite the different interpretations of the 1946 WC in the U.S. and Russia, the truth is that it was a superb Team USA and a superb performance of Grigory Novak. It was the first post World War II world championship and team USA began its journey as the best weightlifting team in the world of the upcoming decade.
As for the Soviet side, they put sending weightlifting teams to the World tournaments on hold. The realized that the team isn't ready for being on top of the world and needed a new wave of younger athletes capable of facing the challenge.
The wait period lasted till 1952 when the Soviets went to compete at the 1952 Olympics in Helsinki, the first Olympics ever with the USSR participation.
---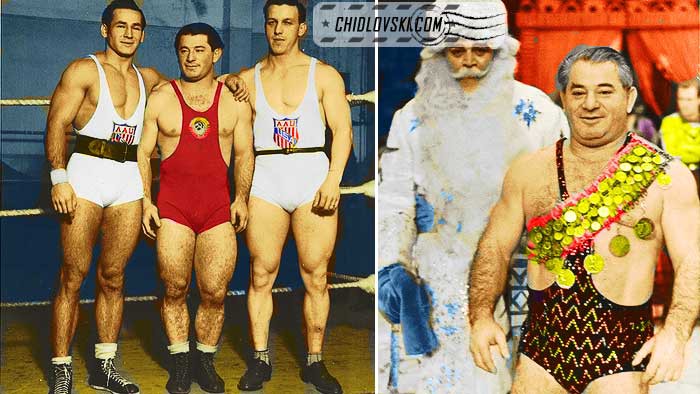 Soviet weightlifting superstar Grigory Novak at the 1946 WC in Paris (left) and, as a circus act strongman (right), after leaving the competition platform.