Go USA Weightlifting Marathon: Bob Hoffman and Team USA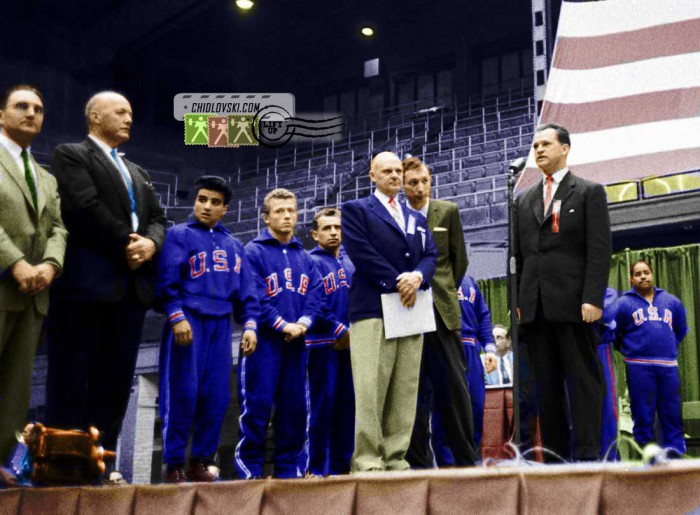 The 2017 IWF World Championships tournament is scheduled to be held in Anaheim, USA from November 27, 2017 t0 December 5, 2017. The Lift Up and our sub-publications continue the Go USA Weightlifting Marathon superseries of historical articles to cheer up the Team USA and all the fans of the Iron Game who certainly will be following one of the key Olympic weightlifting events of the year.
There is no story about U.S. Olympic weightlifting without mentioning the name of Bob Hoffman (1898-1985), the founder of York Barbell Club in York, PA and the person who for decades had a profound impact on development of this sport in the country. He was almost solely respomsible on bringing U.S. weightlifting from being peripheral in the world in the 1930s to the leading powerhouse of the 1940s and 1950s and later in the hist0ry.
The Lift Up: History in Color series at Chidlovski Blog Chidlovski presents the cover photo 0f Bob Hoffmanand Team USA at the opening of the USA vs USSR weightlifting match in Chicago.
Left to right:
John Terpak, Bob Hoffman, Chuck Vinci (56kg, York Barbell), Ike Berger (60kg, , York Barbell), Joe Pitman (67.5kg, York Barbell), Clarence Johnson (IWF), translator (?), event organizer (?), Jim Bradford (90+kg, Bradford Barbell)
The event took place on May 12, 1958 and remains one of the exciting examples of the USA vs. USSR weightlifting rivalry classics during the Cold War era.