Vladimir Grachev (CCCP)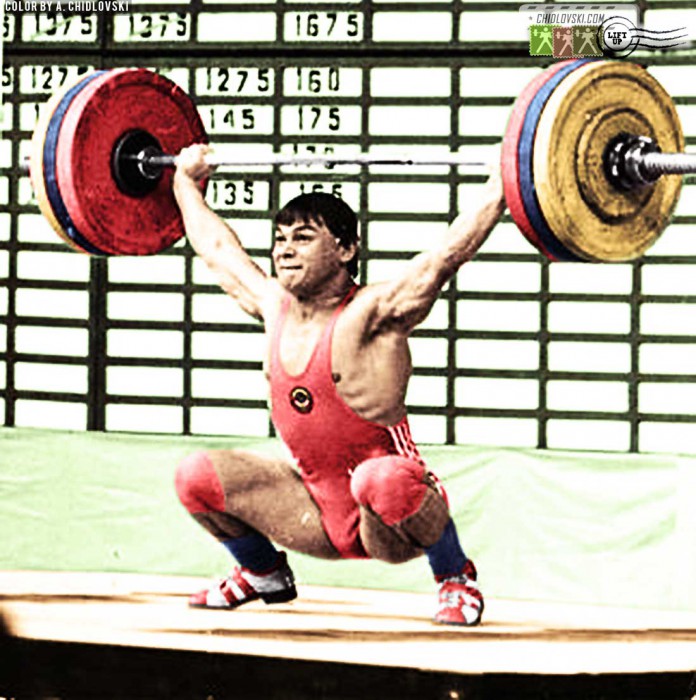 December 15, 1983, Leningrad, Russia – Vladimir Grachev of Tver, Russia snatches the new world record (155kg) in the lightweight at the 1983 CCCP Cup.
Grachev was 22 and it was  his second world record. After the end of the competitions, Grachev won the 1983 Cup in the 67.5kg class and became the USSR Champion in the snatch and clean-and-jerk lifts.
Vladimir Grachev belonged to the list of the lifters that was a huge fun to watch on the competition platform. He was a smooth and fearless lifter with a great technique and speed. He seemed to be constantly charged to go for a record and to surprise everybody.
Grachev was a 3x USSR champion (1983, 1984, 1987), USSR Spartakiad champion (1983), 3x USSR Cup winner (1982, 1983, 1985), 3x clean-and-jerk USSR champion and 6x USSR snatch champion. The snatch lift was his world class forte. He managed to set 3 world records.
Unfortunatelly, while being capable of winning world competitions, Grachev had a very limited exposure at the World championships. It was the time the national team coaches almost abandoned the lighter weight classes where gold medals mostly went to the rising weightlifting superpower – to Bulgarian athletes.
Vladimir Grachev had a good chance to compete at the 1984 Olympics but, due to the boycott of the Olympics, Team USSR Weightlifting went to compete to the Druzhba Cup instead.
Grachev was a guest lifter in the 67.5kg class. He had very strong opponents in this class – two Bulgarians, Yanko Rusev and Alexander Varbanov. In the snatch, both Rusev and Varbanov ended with 145kg. Grachev snatched 152.5kg in his 1st attempt. However, he failed to break the 157.5kg world record in the remaining attempts.
As it was expected, Bulgarians were stronger than Grachev in the clean-and-jerk. He ended up with 182.5kg. Rusev lifted 192.5kg. Varbanov set the world record (200kg) in the 4th attempt. The results in total were: Rusev – 337.5kg, Varbanov and Grachov – 335 kg.