John Grimek (USA)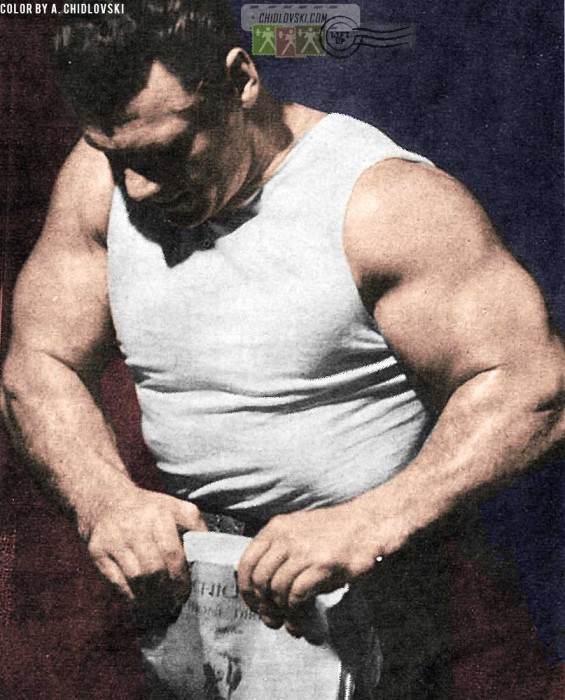 In this "History in Cover" issue, we feature a photo of  legendary John Grimek performing one of the strength feat of the time – tearing apart a Chicago telephone book.
John Grimek (1910-1998) was a great U.S. Olympic weightlifter and bodybuilder in the 1930s and 1950s.
John Grimek trained with the York Barbell Club and was one of the key figures in Bob Hoffman's empire of strength. Grimek's look and feel on the magazine's photos and competitions, in many ways, helped Bob Hoffman's enterprise to propel to the very top of American strength-related market. He was a definite "poster boy" of men's strength and physique as his photos were published on the covers of the "Strength and Health" and all major weightlifting publications of the time.
Grimek won was a part of many weightlifting and bodybuiling contests and tournaments of his time.
As a bodybuilder, he won the AAU Mr. America (1940, 1941), Mr. Universe (1948) and Mr. USA (1949), In bodybuilding world, Grimek earned such nicknames as "The Glow" and "The Monarch of Muscledom".
As an Olympic weightlifter, John Grimek competed for the Team USA at the 1936 Summer Olympics in Berlin. He won the 9th place with the 357.5kg total (115+105+137.5), Grimek won the U.S. national championship in 1936, vice-chapionship in 1935 and a bronze medal in 1940.