Joe Dube at the 1970 AAU Senior Nationals (Culver City, CA)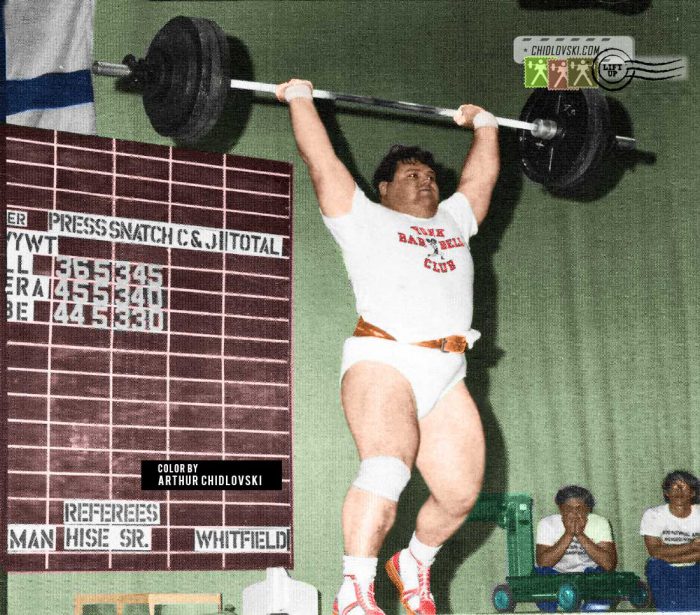 On the cover History in Color photo, one of the best U.S. super heavyweights of all times. Joe Dube of Florida competes at the 1970 AAU Senior Nationals  in Culver City, CA.
Joe Dube was very impressive on the competition platform. As a super heavyweight, he was big and powerful and, at the same time, he was very fast with his lifts.
Joe Dube is a World Champion (1969), bronze medalist of the 1968 Summer Olympics in Mexico City and a champion of the 1967 Pan  American Games in Canada.
He lifted the top total at the 1967 Little Olympics in Mexico and, by bodyweight, finished second to Stan Batishev of the USSR on the medal stand.
On the interrnational arena, by Joe's account, his top list of opponents consisted of four legendary names – Leonid Zhabotinsky and Vasily Alexeev (both USSR), Bob Bednarski (USA) and Serge Reding (Belgium).
In his career, Joe Dube also set two world records in the press lifts.
It's interesting that with all this solid and reliable performance at the top international tournaments, Joe never won the U.S. nationals. He is a 6-x vice champion of the USA (1967-1971 и 1981) but no gold medals were won.
At the 1970 AAU Senior Nationals  in Culver City, CA shown on the cover photo, Ken Patera won the first place and Joe won his 4th vice-champion title.