Remembering Pierre Pilote (1931-2017)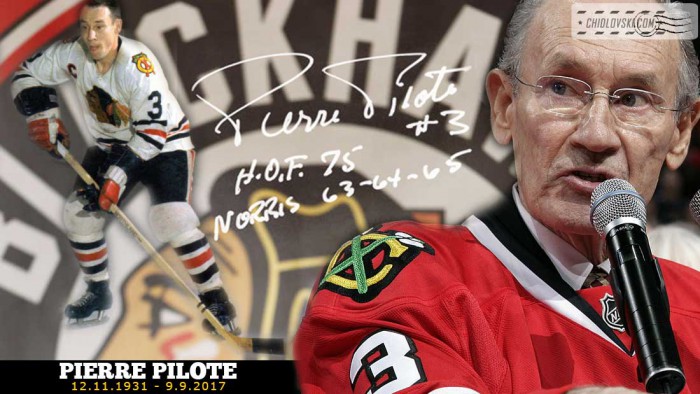 Legendary defenseman Pierre Pilote of the Chicago Black Hawks died last Saturday, September 9, 2017.
He was 85.
Pierre Pilote played in the NHL from 1955 to 1969.
For seven seasons, he was a captain of the glorious Chicago Black Hawks team  of the 1960s.
It was long before the team became known as the Blackhawks.  It was an Original 6 team with Bobby Hull, Stan Mikita and, oh yes, legendary No. 3, Pierre Pilote.
Pilote won the Stanley Cup in 1961, 3 consecutive Norris Trophies in 1963, 1964, 1965 and was inducted into the HHOF in 1975.
On a personal level, the first book that I read about the NHL and its players was the book written by Bobby Hull. It was published in Russian during the 1974 Summit Series between Team Canada and Team USSR. The book was my first intro into the history of the Original Six teams. Of course, the author wrote a lot about his team and teammates. As we know, Bobby Hull, the Golden Jet played for the Chicago Black Hawks.
That was how I first learned about Pierre Pilote, about his game, style, and role in the team.
It's very sad to hear that the hockey heroes of our childhood are no longer around.
My deepest condolences go to the family and friends of Pierre Pilote and to all fans of the game.
RIP, hockey legend Pierre Pilote!