Training Camp in Dzintare (1950)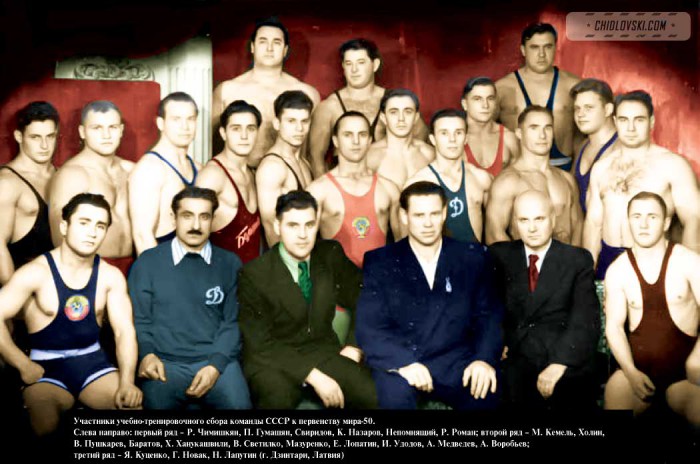 The debut of the weightlifting Team CCCP at the 1946 World Championship in Paris in Paris was successful. However, with the exception of the world class level of Grigory Novak, the rest of the team wasn't at the lead level of top level champions in the world.
By the Soviet standards of the time it wasn't acceptable to be below the medal level. Actually, the gold medal level was becoming mandatory.
The strategic decision was made to bring new talent aboard, to add stronger and younger athletes to the national team.
The cover photo features enhanced group shot of the Team CCCP Weightlifting at the training camp in Dzintare, Latvia in 1950 (left to right*)
Top row:
Y. Kutsenko (35, Kiev, 82.5+kg), G. Novak (31, Moscow, 82.5kg) , N. Laputin (37, Kiev, 82.5+kg);
Mid row:
M. Kemel (Kiev, 67.5kg), V. Holins (leningrad, 82.5kg), V. Pushkarev (29, Moscow, 75kg), Baratov (Pyatigorsk, 60kg), K. Khanukashvili (Tbilisi, 60kg), V. Svetilko (33, Tbilisi, 67.5kg), Yu. Mazurenko (Kiev, 60kg), Ye. Lopatin (33, Moscow, 60kg), I. Udodov (26, Rostov, 56kg), A. Medvedev (23, Moscow, 82.5+kg), A. Vorobyev (26. Sverdlovsk, 82.5kg);
Front row:
R. Chimishkyan (21, Tbilisi, 60kg), P. Gumashyan (coach), Sviridov (coach), K. Nazarov (coach), Nepomnyaschiy (coach), R. Roman (21, Moscow, 56kg)
Note: * Info nest to the name of athlete includes his age, town and weight class.
To view the detailed profile, please follow the link associated with the name.