Pioneers of Soviet Weightlifting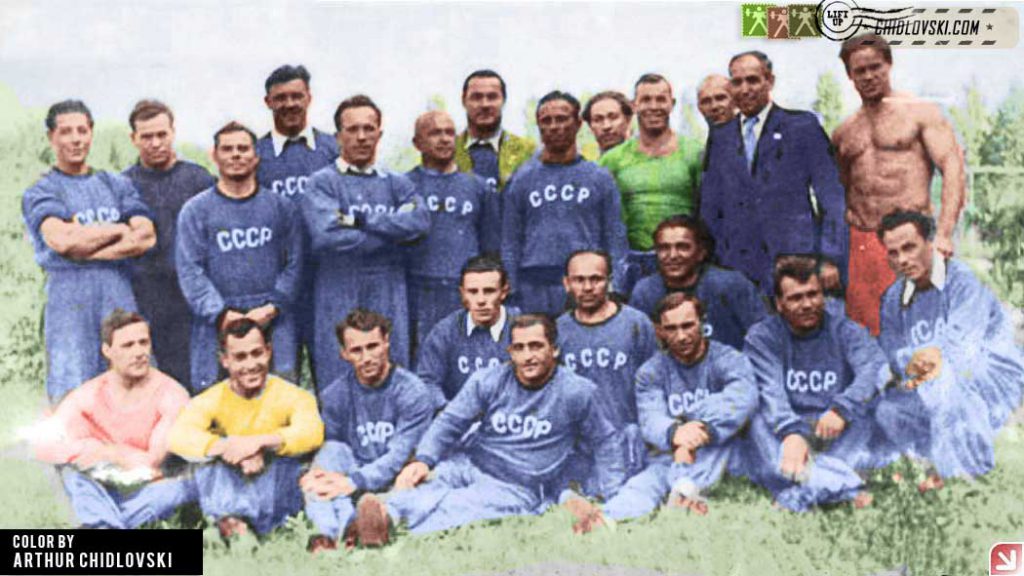 This is a digitally enhanced version of weightlifting Team CCCP in Kharkov in 1947.
Top row (left to right): Roman Moroz, Vladimir Pushkarev (Moscow, 1921-1994), George Popov (Kiev, 1912-1984), Nikolay Laputin (Kiev, 1913-1986), Nikolay Shatov (Moscow, 1909-1992), Alexander Bukharov (Moscow, 1892-1952), Yakov, Kutsenko (Kiev, 1915-1988). Vladimir Svetilko (Batumi, 1917), Grigory Malikov,  Sergey (massage therapist ), Nikolay Luchkin,  Deshin (doctor), Konstantin Nazarov (Moscow, 1905-1996);
Bottom row (left to right): Dmitry Polyakov (Moscow, 1905-1965), Suren Bogdasarov (Tashkent, 1920-2009), Moisey Kasyanik (Tbilisi, 1911-1988), Evgeny Lapatin (Saratov, 1917-2011), Ivan Azdarov (Yerevan. 1916-1993), Mitrofan Kosyrev (Moscow, 1911-2005), Laftula Kashaev (Tashkent), Alexander Donskoy (Kiev, 1913-1956), Alexander Bozhko (Moscow, 1915-1977), Yury Duganov (Leningrad,  1921-2012).
Note: For more information, please follow the link associated with the name in the caption.
In my opinion, it's a brilliant snapshot of weightlifting personalities in the 1940s.
The photographer managed to get together literally the founding fathers that created the foundation of the Soviet weightlifting for the next 50 year of its glorious history.
It was  only two years after World War II. Most of them just came from the service.
In the next few decades, some of them will soon win Olympic  and world titles. Some will coach next generations of champions.
Some will write weightlifting textbooks. Some become world famous sports scientists.
It was the crème de la crème of Soviet Olympic weightlifting in one photo.
---
USSR Weightlifting in 1947
Note: To view a complete list of the winners in the weight classes above,
please follow the link associated with the weight class.
Save
Save
Save
Save
Save
Save