Totally Amazing Grand Finale of the 2016 World Cup of Hockey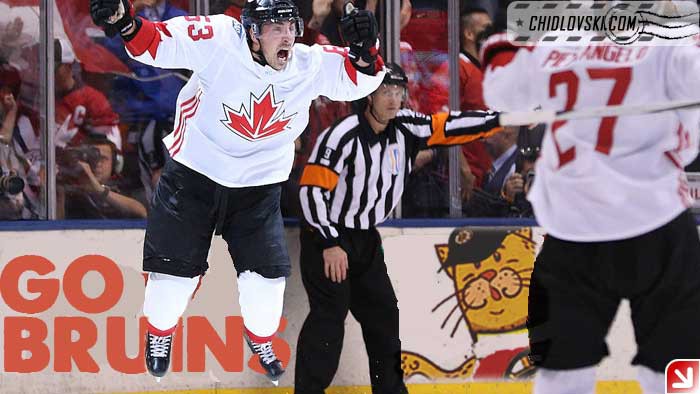 "M-A-R-C-H-A-N-D !!!!"
This is our girls' catfriend Prince Edward reporting from the 2016 WCH in Toronto.
"B-R-A-D !!!!"
These are our girls Beathrice and Daphne getting ecstatic while celebrating the short handed, game winning, tournament winning goal by #63 of Team Canada and Boston Bruins.
As for me, I barely maintain my calm… I grew up on Soviet hockey and never in my life rooted for Canada in hockey. Forgive me legendary Kharlamov, Petrov and Mikhailov, in the last few months I converted into a big admirer of Team Canada. I still think Helmut Balderis is the best player of all times and nations but what I experience today is pretty close. Go Canada!..
I don't know how it happened.
I guess it all started with this Brad Marchand Goes To Russia mini-series created for this blog. Marchand was selected to play for Canada at the 2016 IIHF World Championship in Russia and, out of curiosity, I started to follow this trip.
As a Bostonian and Boston Bruins fan, I knew that Marchand is a very good player. He is fast, great skater, has a fantastic wrist shot and a very impressive skating and puck-handling techniques.
There are many players with skills but that doesn't make them elite players.
There is something else that has to go with it. Special mindset. Character and special intelligence…
On the other hand, Marchand is 5'9″ ans constantly gets into fights. When the team has established enforcers, to me it seemed like a waste of time and energy. And in my book of hockey, I put Marchand to the league of another tough and smallish and popular Bruins' John "Pie" McKenzie who played in the 1960s and early 1970s.
Anyway, Brad Marchand Goes To Russia started and it changed my whole prospective. I saw a totally different Marchand. The skillset was still there but he looked more mature. He didn't get meaningless penalties, played great two-way game and clicked with his new teammates. It was great to watch how Marchand and Team Canada played and it changed my mind… Sorry but go Canada!
Then Marchand got selected to play for Canada at the 2016 World Cup and got to play with Patrice Bergeron (naturally – he is his Bruins linemate) and Sydney Crosby (wow!).
Now, playing for Team Canada in the World Cup and in the IIHF World Championship are two different stories. The WC's are played during the playoffs and all best players don't go to overseas by definition. Playing in the World Cup gathers all the best talent Canada has at the moment. Being selected to play is a huge honor.
At first, I thought Marchand will be pushed aside by bigger stars and important names.
Much bigger. In terms of their size and paycheck too.
You saw what happened then… Team Canada won the 2016 WCH, Marchand was a spark plug of the team during the whole tournament and I still have to digest the though of how good the Marchand – Crosby – Bergeron line was. Obviously, it is the best line in the world as of now.
I am curious how it can be ranked from a historical prospective.
It's way after midnight to go into historical prospectives.
So just a few initial thoughts and observations for now.
Cheers!
---