Now and Then (1972-2016): Da Da Canada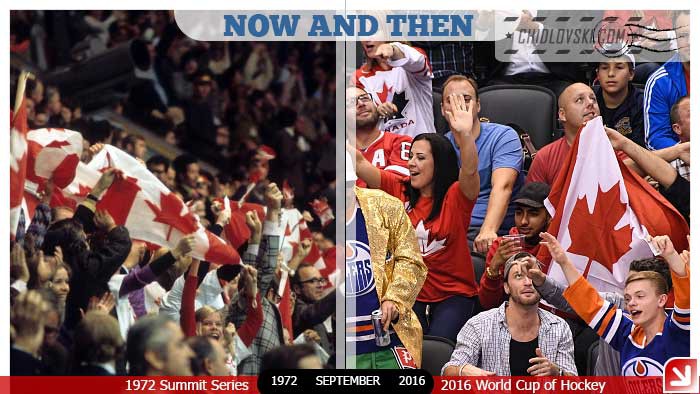 That was a chant Canadian fans supported their team at the Moscow Luzhniki Arena in September 1972:
"Da da – Canada. Nyet nyet – Soviet!"
Team Canada was down in the series 1-1-2 when they went to Moscow for the second part of the 1972 Summit Seties and that chant was a special connection between Canadians in Moscow, between the fans and the player on the ice,
Celebrating the 44th Anniversary, we have to realize that the eyewitnesses of  the 1972 Summit Series are now at least 45+. Most of them have half of the century experience of watching the game and cheering for their team.
They have PhD in hockey following. They've seen it all!
The majority of Canadian fans watching the games at the 2016 World Cup of Hockey today were not even born in 1972.
Yet, the hockey nation know and remembers the heroics of Team Canada 1972 and all will get a sip of Molson in these days in honor of Paul Henderson goal scored in September 1972.
Cheers! Go Canada!