Now and Then (1972-2016): Russian Coaches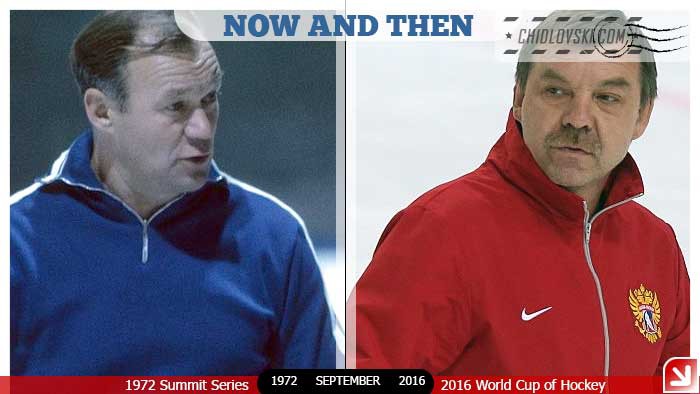 Are you ready to celebrate the 44th Anniversary of the 1972 Summit Series?
Come on, party poopers, time to mark on your calendar the special month of September!
Here is a quick look of the head coaches of Team USSR in 1972 and Team Russia in 2016 – Vsevolod Borov and Oleg Znarok.
Interesting enough, they represent absolutely different approaches to the game.
Superstar athlete of the 1940s and 1950s, Bobrov was a follower of a slick players, great scoring, speed and passing.
Znarok's hockey style is defense first, shoot the puck whenever you can, disciplined hockey schema… If anyone got inspired and learned from Team Canada play in 1972, it was Oleg Znarok for sure. As a player in Dynamo Riga, he was a grinder who played a very physical game. As a coach, he continues to build his training schema with the same idea – no nonsense defensive play.
Cheers! Happy 44!
Save