Marchuk
Vladimir Marchuk is mostly known as the first Olympic weightlifter who cleaned-and-jerked 260KG in 1982.
Leonid Taranenko certainly clean-and-jerked 266KG at the Samboy Chips Cup in 1988 and even claimed that he was ready to bypass 270KG but couldn't find sponsors to pay for this result. "It ain't a job for 750 roubles that the USSR paid for a world record!" Taranenko remembered the old days of the Soviet weightlufting.
I don't know how much Marchuk got paid for 260KG record. Anyway, 34 years afterwards, no one in the world  yet lifted 270KG in clean-and-jerk. So, Marchuk's lift stays as a milestone for those who likes x10KG results.
Fans of Iron Game often refer to record breaking leg strength of Vladimir Marchuk and quote that he was able to squat 435KG three times!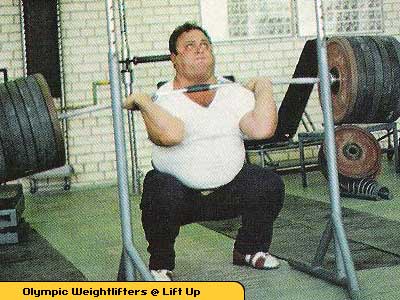 For those who are challenged by kilograms to pounds conversion, this is 960 lbs x3!
It does sound very impressive but Olympic weightlifters don't officially compete in squats and the results usually means a poundage lifted in training and perhaps witnessed by some trainers and teammates in the gym.
To me, Marchuk is a part of my junior years in weightlifting. I lifted in Moscow and it was nice to hear that our city can again produce world class talent in Olympic weightlifting. The decades of top notch contenders from Team Moscow was over by my time of active weightlifting and most national team members were coming from the other places in the country.
So, it was nice to hear that Vladimir Marchuk put Moscow on the Soviet weightlifting map. Ironically, his historic 260KG world record was set on the same day and in the same arena. I was competing for my university in the 67.5KG class.
It happened in the Izmailovo Olympic Hall on December 19, 1982. I was really surprised to see a superheavyweight athlete warming up with the lightweight juniors. Then I saw former Team USSR head coach and dean of weightlifting school Alexey Medvedev in the hall and we all realized that something is going on. After we finished our competition, Medvedev quickly replaced all officials and the superheavyweight lifter appeared on the competition platform.
I don't remember his snatch results. It was 187.5 or 190 kilos but I always remember how they announced that the lifter just clean-and-jerked a world record of 260KG! The superheavyweight athlete was Vladimir Marchuk and that was the first time in my life when I eyewitnessed the world record.
Marchuk had a few more years he actively pursued the place on the national team USSR. There is a series of award-winning photos in the slideshow presentation picturing his dramatic fourth attempt to lift 265KG at the 1983 USSR Spartakiada in Moscow. It wasn't successful. The photographer actually got national awards for this lift.
For Marchuk, it was perhaps the last big push to break a new world record and secure a place on the national team at 1984 Summer Olympics.  The test of the story is known, Pisarenko and Kurlovich were selected as the top choice but, in the end, no Soviet athletes went to Los Angeles 1984 because of the boycott.
From the historical prospective, Vladimir Marchuk was a strong contender for the super heavyweight title in the end of the era of Vasily Alexeev. Alexeev was injured and he was way after 35. There was a nation wide search for his successor.
Marchuk's breakthrough was at the 1979 USSR Championship in Leningrad. He was 25 and won a bronze medal right behind the 110KG+ aces Sultan Rakhmanov and Aslanbek Yenaldiev.
Rakhmanov had a superb snatch but lacked solid results in the cj, No confidence in cj lift usually meant no confidence in winning the titles. Yenaldiev was strong in the cj but his snatch wasn't that impressive and he was Alexeev's back up for too long. Being a solid number two doesn't mean a smooth transition to number one at all.
It looked like Marchuk suddenly got his chance. In 1980 he won the national title in Moscow in the duel with Anatoly Pisarenko. Marchuk became a candidate to compete at the 1980 Olympics in Moscow. However, it was Alexeev and Rakhmanov who were picked to represent the Soviets in the super heavyweight class. Alexeev bombed out in the snatch and Rakhmanov won the Olympic gold medal.
In the next few years, Marchuk set two world records in clean-and-jerk and won USSR Cup in 1981 and 1982. His forte was clean-and-jerk and his snatch wasn't progressing that fast. The new generation of superheavies was aggressive, strong and rapidly progressing. Anatoly Pisarenko, Alexander Gunyashev, Alexander Kurlovich and slightly  later Leonid Taranenko were the ones to dominate the 110+KG class in the following years.
Many history and weightlifting experts compare Vladimir Marchuk to the legendary Paul Anderson of the USA.
Although, there is some similarities in appearance and temperament, Vladimir Marchuk obviously was a much more advanced technician in the 1980s than the "Miracle of Nature" in Toccoa, GA back  in the 1950s.
Physical Dimensions: Paul Anderson vs. Vladimir Marchuk
| | Height | Weight | Neck | Biceps | Chest | Waist | Hip |
| --- | --- | --- | --- | --- | --- | --- | --- |
| Paul Anderson (1932-1994) | 177 | 170KG | 62 | 55 | 147 | 123 | 91 |
| Vladimir Marchuk (1954) | 178 | 154KG | 46 | 55 | 143 | 119 | 86 |
Note: The table uses centimeters (CM) unless specified diffrently.
After retiring from competitive weightlifting, Vladimir Marchuk was involved in farming in rural areas not far from Moscow. He keeps in touch with modern lifters and often can be seen presenting medals and awards at the Olympic weightlifting meets in Moscow.

---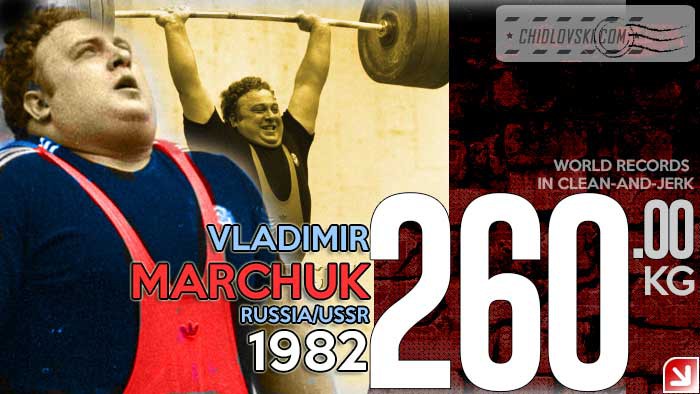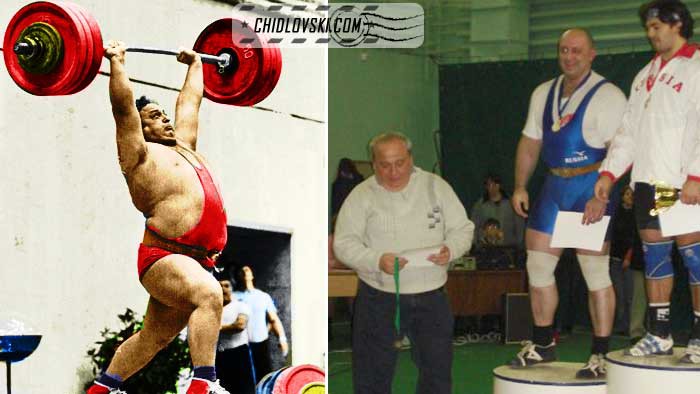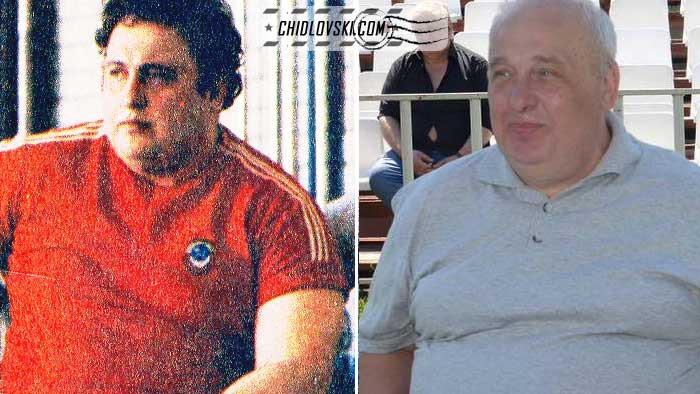 Save