Chef Marchand's Special Goulash Recipe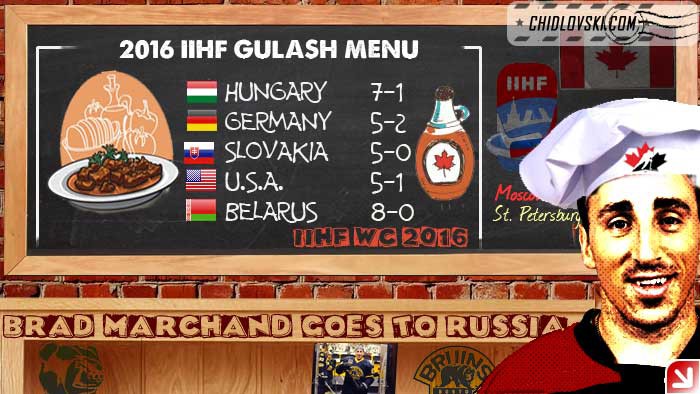 The story on Boston Bruins own Brad Marchand playing at the 2016 World Championship in Russia continues.
Today Brad scored an assist on goal by Matt Duchene for Team Canada. See the video replay below to enjoy the timing and techniques in the episode. Team Canada won 5-0 against Slovakia.
Now, have you noticed that Brad Marchand and his teammates beat all major goulash makers in the world, including goulash inventors from Hungary and close competitors from Germany and Slovakia.
Now, that definitely qualifies Marchand as a crowned goulash champion. Obviously, the goal of going to Russia wasn't exactly beating the goulash nations but winning the world title.
Still, don't forget to ask Chef Marchand for a good goulash recipe. We are sure he won't mind to share.
Other than that, good luck to all @ 2016 IIHF World Championship in Russia!
Shaibu-Shaibu! Do Toho! Go Canada! Go USA! Heja heja!
Did I miss something?
Here is the latest tid bid from Russia for visual folks. Brad Marchand scores against Team USA in the opener  in St. Petersburg.