1972-2022, Lucrative Offers: Was Phil Esposito Approached in Moscow to Play for the Red Army?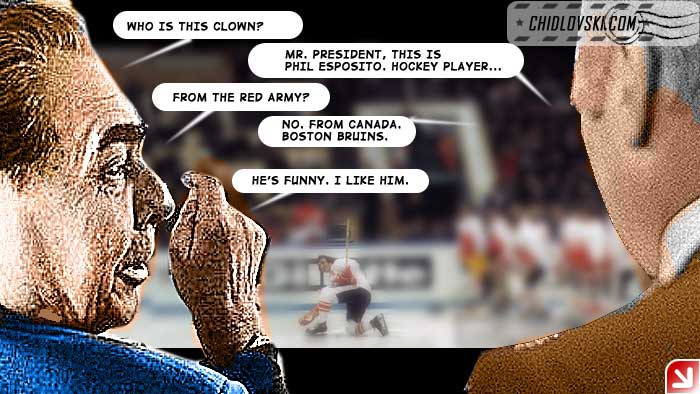 The whole world was watching when they introduced me. I stepped on the stem and fell flat on my ass. I'll tell you, that broke some of the tension. But the ironic thing was, (Leonid) Brezhnev was president then and when I looked up, I made eye contact with him. There was the Soviet president staring right back at me. Everybody in the arena was laughing at my pratfall – everybody but him. His look was as cold as the ice I was sitting on. So I put my hand to my lips and SMACK I blew him a kiss. And he still didn't laugh. But the guy beside him did and Brezhnev turned and gave him a look that almost paralysed the poor guy. I said to myself, 'Holy Christ, we may not get out of here alive!'
Phil Esposito about Game 5 in Moscow, September 1972

The dialogue in the VIP section of the Luzhniki Hockey Arena in Moscow probably sounds like this re-enactment graphics… Just an educated guess of a historian of the 1972 Summit Series, however 🙂
There are many stories about lucrative contract offers to the Soviet players during the 1972 Summit Series. One of my favorites is when Alan Eagleson approached selected USSR players in their hotel room in Vancouver. No coaches, nobody to bother but Eagleson with his interpreter and a group of players from Moscow.
– So, guys, what would you say about playing in the NHL?
Silence was an answer. It was long and embarrassing.
– It can be done ONLY if Leonid Ilyich Brezhnev gives us permission to do so, – answered Tretyak.
Perhaps, it was the biggest save by the goalie. This time he saved the Soviet stars retirement money from being managed by Alan Eagleson.
Whatever Lola likes, Lola gets… Change Lola for Brezhnev and you will get an idea of how the things were done back then in the USSR.
Now, if the Soviet leader was so impressed by Phil Esposito and thought about him playing in the Red Army club, was Esposito ever approached by the Soviets to play in Moscow?
Nah, just a wishful thinking here. No worries. Phil went back to play for the Boston Bruins.
Happy celebration of the 50th Anniversary to all!