1972-2022, Personalities: Jean-Claude Tremblay (Canada)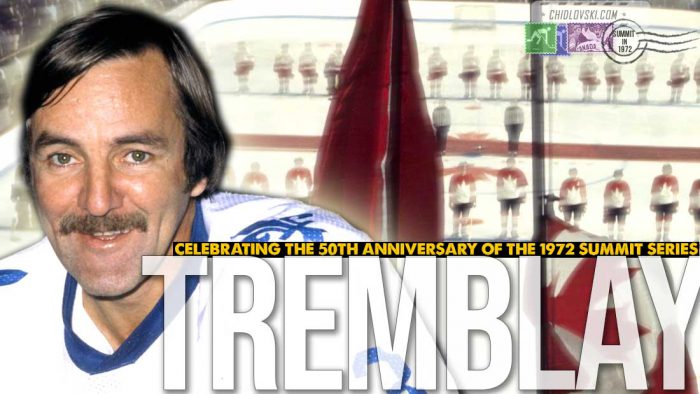 Jean-Claude Tremblay
by Mike Wyman, Inside Hockey (2002)
Comments by The Summit in 1972: Were Team Canada players the best in Canada in 1972? Besides injured Bobby Orr, hockey experts often also mention Bobby Hull, Gerry Cheevers and J.C. Tremblay who could have been a significant addition to the Team Canada 1972 roster had they not signed their contracts with the WHA. The WHA players got their chance to represent Canada vs. the Soviets two years later at the '74 Summit Series. This article tells the story of one of the most prominent defensemen of the 1970s, Jean Claude Tremblay.
Jean-Claude Tremblay (01/22/1939-12/07/1994)
Career Highlights:
– Played with Montreal Canadiens (NHL) and Quebec Nordiques (WHA) in 1959-1979;
– Won five Stanley Cups in '65, '66, '68, '69 and '71;
– Won AVCO Trophy in 1977;
– WHA awards: Dennis A. Murphy Trophy (Best Defenseman) in 1973, 1975;
– Played for Team Canada at the '74 Summit Series and more

Coming out of the same Saguenay/Lac-St-Jean area of Quebec that produced such folks as Vezina, Johnny Gagnon, Bill Dineen, Sam St- Laurent and Peter Lee. Tremblay was a promising forward until teammate Claude Ruel lost an eye.
Moved back to the blue line, he soon established himself as a magician with the stick and graduated to the Habs in 59-60. Unlike others in his position, his wizardry involved using his lumber to break plays rather than opponents' bones. He's often maligned because he didn't lay on the body as did most of his peers buy he didn't have to play a physical game to succeed.
By '61-62 he had established himself as a mainstay on a Canadiens squad that was in a rebuilding phase following their 5-Cup run in the fifties.
He was a student of the game, one of the smartest players on the ice at any given time. He led the Habs' in scoring in the playoffs leading up to the '66 Cup against Detroit and seemed to have a lock on the Conn Smythe, which ended up going to Roger Crozier, who played a couple good games in the final.
Tremblay was, as we say in French, un vieux bougonneux, or "grumpy old man" in the eyes of most media members, largely because he really didn't have much to say to them and was often curt and abrupt in his answers. The fact that his English was not too good may have had something to do with him aquiring a reputation as a grouch.
After a decade with the Habs that saw him accumulate 5 rings and a couple All-Star nominations, yet not the acclaim that was due his talents, Tremblay jumped to the upstart WHA and gave the Quebec Nordiques the same credibility that Bobby Hull brought to Winnipeg.
While he may not have been a favorite of the newspeople, he got along with his teammates and was a source of information, advice and inspiration to his teammates.
Wally Weir played a couple years with Tremblay. As a rookie he was offered a couple choices come contract time, a two way agreement that potentially paid more if he stuck with the team and a guaranteed deal for less money than the top end of the split contract.
Tremblay advised him to take the guaranteed deal, telling Weir that if he was any good, he'd sign another contract in a couple years for even more money.
Weir also remembered Tremblay practicing a trick shot for an entire season in practice. Sort of a chip shot where he's bring his blade down on the edge of the puck, sending it into the air, towards the goal for about 30 feet, when it would suddenly drop, as if falling offa table. He practiced it all year and finally used it effectively in the final game of the '77 Avco Cup final.
Overlooked by the HHoF because he had the misfortune of playing at a time when there was only one defenceman in the NHL, some guy named Orr in Boston, Tremblay was one of the most entertaining players on the ice, especially when his team was shorthanded. He would kill penalties virtually alone, dipsy-doodling up and down the playing surface, behind both nets, opponents trailing behind him ,completely outclassed in his game of "keepaway".
When asked for a comment on Tremblay when he passed away a number of years ago, Gordie Howe expressed surprise that he wasn't already enshrined in the HHoF.
"He's got 5 Cups. I've only got 4."
After his playing days he moved to Europe and was scouting for a number of years before passing away. Unfortunatly the Canadiens were latecomers to the practice of drafting players from outside North America and only started giving his reports weight once the rest of the league had been picking overseas players for years.
---
Mike Wyman lives in Quebec, Canada. He is a prominent hockey author and screenwriter. His Old School column at InsideHockey.com is one of the best online examples of storytelling about the legendary old-time hockey players.