Serge Reding (Belgium) at the 1965 Prize of Moscow International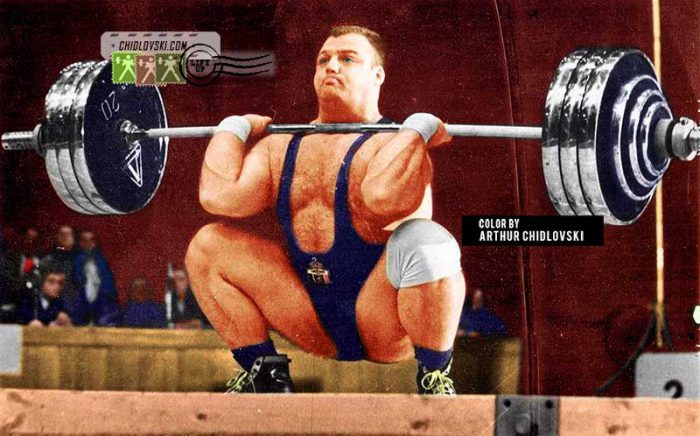 History in Color:
March 19, 1965, Moscow, Russia, USSR – Belgian super heavyweight Serge Reding competes in the 90+kg class at the 1965 Prize of Moscow International tournament in Moscow.  It was the first Prize of Moscow for a 24-year old Serge Reding and he won the 2nd place with a 480kg in total.
I doubt that Serge Reding needs a special intro for true Iron Game followers. There were also several articles about him in my History in Color series too to refresh your memories about this legendary athlete.
Reding was one of the best super heavyweights of the 1960s and up to his tragic death at the age of 34 in Manila. Reding competed for his native Belgium at the Summer Olympics in 1964, 1968 and 1972. In 1968, he became a vice champion of the Summer Olympics in Mexico City. He won silver medals at the World Championships in 1968, 1969, 1970 and 1974, won the European championship in 1969 and set 6 world records in his remarkable Olympic weightlifting career.
Serge Reding is a member of the prestigious Club 600 with the 620kg total of 3 lifts (220+175+225) set in Lille, France in April 1972. As a historical reminder, there were only 5 athletes in the world that had their membership in the Club 600. Besides Reding, those were Vasily Alexeev (USSR), Rudolf Mang (Germany), Ken Patera (USA) and Stanislav Batishchev (USSR).
After the elimination of the press lift in 1972, Reding's personal best results were 182.5kg in snatch, 235kg in cj and 412.5kg in total of two lifts.