Tony Terlazzo (USA) Wins Gold at the Last World Championships Before the War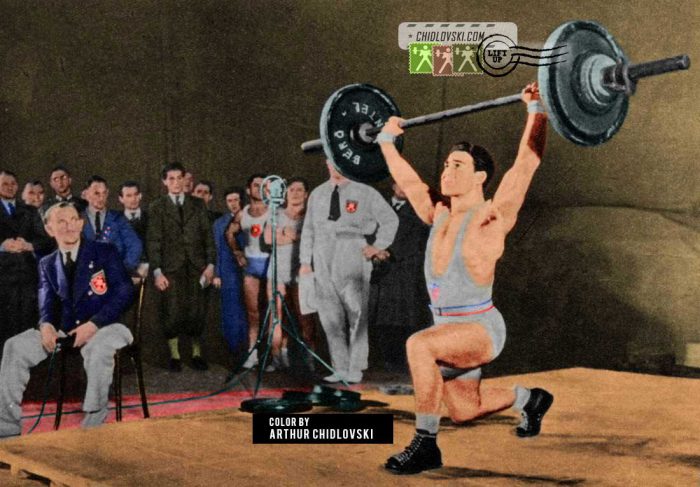 History in Color:
October 21, 1938, Vienna, Austria – U.S. lightweight Tony Terlazzo of York, PA is competing in the snatch program in the 67.5kg class at the 1938 World Championships held in Vienna.
Anthony (Tony) Terlazzo (1911-1966) was a "golden boy" of American weightlifting. He was the first U.S. Olympic weightlifter ever to win an Olympic gold medal (1936) and a World title (1937).
After winning the 1936 Summer Olympics in the featherweight class, Tony moved up to the lightweight and won the gold at the 1937 World Championships.
In Vienna (shown on the cover photo), Terlazzo won his second World title. In the team competition between nations, Germany won the 1st place, USA was the 2nd and Italy was on the 3rd place.
The original black-and-white photo was taken from an Austrian magazine of the time. The pictures around it looked rather like a display of military power and Nazi symbolics.
On March 12, 1938, the German Wehrmacht crossed the border into Austria. Unopposed by the Austrian military, the Nazi troops were greeted with great enthusiasm. A plebiscite held on April 10, 1938 officially ratified Austria's annexation by the Reich.
The 1938 World Championships in weightlifting took place 6 months after the annexation. It was the last World Championships  held before the war.
The World War II began in September 1939 and no international competitions were conducted.