Rookie U.S. Bantamweight Chuck Vinci in Munich, Germany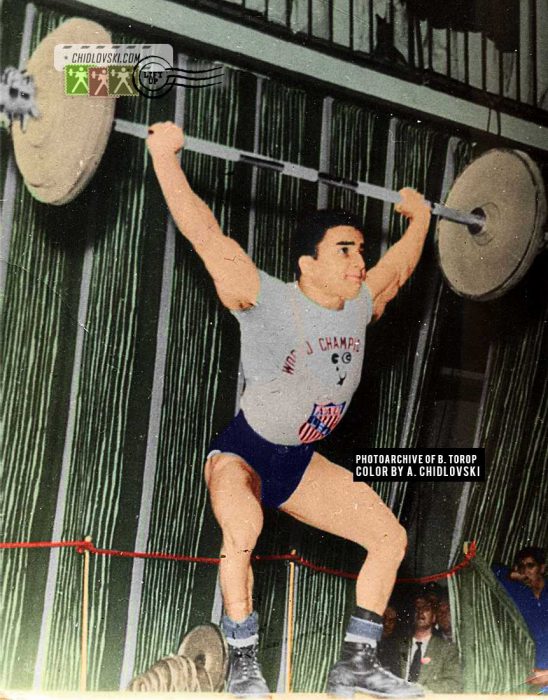 October 12, 1955, Munich, Germany– Bantamweight Charles "Chuck" Vinci, a rookie of the U.S. weightlifting team, marks his Wolds debut with a silver medal at the 1955 World and European Championships in Munich.
It was the first appearance of legendary Chuck Vinci with the national team in the top world tournaments. 22-year old rookie managed to win the snatch lift program and earned a silver medal with a 317.5kg (95+102.5+120) total. A year later, Vinci became an Olympic champion in Melbourne.
A 2x Olympic champion and author of 5 world records, Charles Vinci (1933-2018) of Cleveland, Ohio, USA, was one of the best bantamweight athletes in the history of Olympic weightlifting. The 4-foot 10-inch Vinci was a well-known clutch winner of many weightlifting battles.
On the national level, Vinci represented the once greatest York Barbell Club founded by legendary Bob Hoffman, "the father of American weightlifting". In addition to his national titles in 1954-1956 and in 1958-1961, Charles Vinci brought his country two gold Olympic medals in Melbourne (1956) and Rome (1960). As of now, he remains the last U.S. Olympic champion who won in the men's competitions at the Summer Olympics.
Besides his heroic performance at the Olympics, Chuck Vinci won gold medals at the Pan American Games in 1955 and 1959 and competed in the historical USA vs. USSR matches in 1955 and 1958.