In Loving Memory of Sue Chidlovski (1942-2020)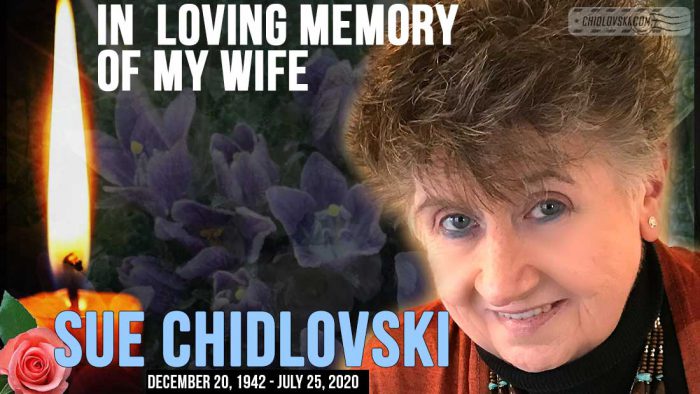 Sue passed away this morning.
She was the love of my life.
She was my wife, friend, companion, inspiration.
She passed away this morning in Jacksonville, FL.
I am not used to the past tense here.
She is and will be in my heart forever.
Remembering Glenda Sue Chidlovski (1942-2020)
---
She Was Many Things to the Lives She Touched
Sue "Susie" (Stone) Baker Chidlovski passed away on the morning of July 25 in Ponte Vedra, Florida.
Sue was many things to the lives she touched. She was a teacher and mentor dedicated to all of her students, a captivating story teller, an avid animal rescuer, a talented playmaker, a classic movie maven, a published author, a newspaper columnist and reporter, a giver of thoughtful gifts, and a loving wife and mother.
A native of Monett, Missouri, Sue graduated with an Associate's degree from School of the Ozarks, Bachelor's degree from Drury College and her Masters in Performing Arts from Emerson College, Boston.
Sue began her professional career as an elementary school teacher and later wrote as the society editor for several local newspapers in South Carolina and Massachusetts.  During the years she directed, produced and tech-staffed numerous local theater productions. She retired after 17 years from Emerson College, Performing Arts, Boston and lived in Winthrop. In 2019, Sue and her husband moved to Ponte Vedra, Florida.
Sue worked as a stage manager when she met a playwright and actor Arthur Chidlovski of Moscow, Russia who performed with the Cabaret Glasnost at the Majestic Theater in Boston. Two years later, in 1991, they married on the stage of theater where they met.
Sue published two amazing books – the "Home Again, Home Again, Jiggity, Jig" (2017), a book about her family, hometown and people she knew and the "Tree of Life" (2018), a story of two Cherokee Indian women based on her family archives.
Sue is survived by her husband, Arthur Chidlovski of Ponte Vedra, Florida, her daughter, Melissa McCullough of Salem, her brother, Glenn Stone of Oronogo, MO, her sister, Betty Gamache of Barnesville, SD and her cousin, Janice Bowen of Pierce City, MO.
Services will be held at a later date. Please sign the online guestbook at www.pontevedravalley.com
---