Nikolay Saxonov: 1952 Summer Olympics (Helsinki)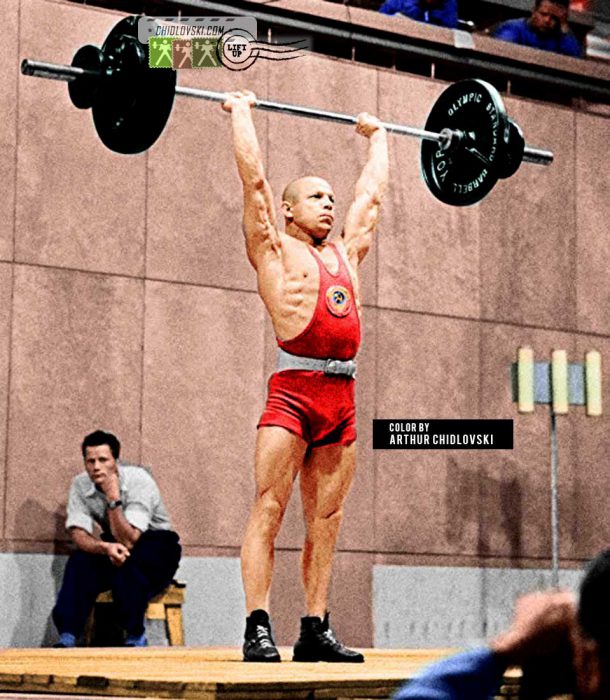 History in Color:
July 25, 1952, Helsinki, Finland – 29-year old featherweight Nikolay Saxonov of Svedlovsk, Russia competes for Team USSR in the 60kg weight class at the 1952 Summer Olympics in Helsinki.
In Helsinki, Nikolay Saxonov won a silver Olympic medal after being outlifted by 5kg in total by his teammate Rafael Chimishkyan. Saxonov's medal was the 3rd medal won by the Soviet weightlifters at their first ever Olympics. Ivan Udodov won the gold in the 52kg and Rafael Chimishkyan won the gold in the 56kg class.
Nikolay Saxonov (1923-2011) was a champion of the World, Europe, USSR and an author of seven world records. He was a true legend of Soviet weightlifting and all sports overall. He belonged to the generation of athletes that stepped on the weightlifting competition platform after coming back from the battles of the World War II.
The next year after winning a silver medal at the 1952 Olympics, Saxonov became a World and European champion (1953). In the internal competitions, he won the USSR Championships (1949, 1952, 1953) in the featherweight class.
Saxonov competed for his hometown Sverdlovsk (now Ekaterinburg) and represented Lokomotiv and Army clubs.
His strongest lift was the clean-and-jerk. Saxonov set 7 world records in this lift.
Nikolay Saxonov studied medical sciences with his university classmate and weightlifting teammate Arkady Vorobyev. Both of them lived in Sverdlovsk and shared interests both in studies and sports.