Nikolay Laputin (USSR): 1947 European Championships in Helsinki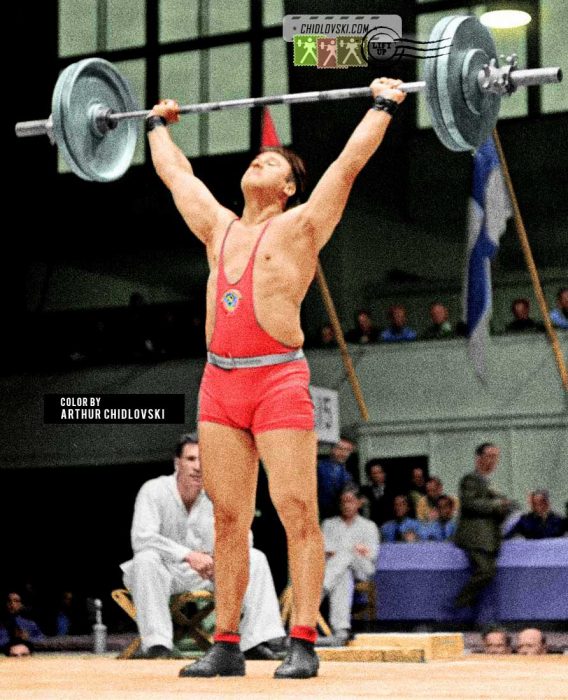 History in Color:
October 3, 1947, Helsinki, Finland – Soviet heavyweight Nikolay Laputin performs a snatch lift in the 82.5+kg weight class at the 1947 European Championships in Helsinki.
It was the first European Championships after the WWII and the first Europeans with the Soviet lifters competing at. In 1947, the Soviet team introduced two heavyweights – Yakov Kutsenko and Nikolay Laputin and they won gold and bronze medals respectively.
---
Nikolay Laputin (1913-1986) was one of the best Soviet heavyweight athletes of the post WW2 decade. At the USSR Championships, he won 5 silver (1945, 1947, 1948, 1950, 1951) and 2 bronze (1943, 1953) medals. In his career, he set 2 USSR records.
Laputin competed for the Army Club of Kiev, Ukraine and, at the Ukraine Championships, we won 1 gold (1950), 3 silver (1948, 1949, 1951) and 1 bronze (1941) medals.
After his retirement as an athlete, Nikolay Laputin became a distinguished coach, official and educator. He taught at the State Institute of Physical Education in Kiev and was considered an outstanding speaker always gathering a full house of students at his lectures.