Peter George (USA): Happy 90th Birthday to the Legend!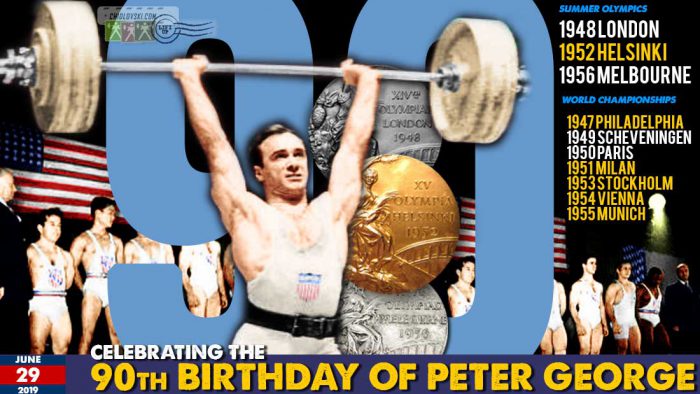 June 29, 2019 – One of the all-time and all-nations best Olympic weightlifters who ever stepped on the competition platform, Peter George of the United States turns 90!
By all means, Peter George is  of the most distinguished athletes in the history of this sport.
Brilliant technician and unprecedented competitor of his time, Peter George paved the road map to a true success in sports. He represented the USA at three Summer Olympics and brought home medals from all three of them. He won Olympic gold in Helsinki in 1952 and silver medals in London in 1948 and in Melbourne in 1956.
Peter George won gold medals at two Pan American Games in Buenos Aires (1951) and in Mexico City (1955) and won five World titles in his fascinating career in Olympic weightlifting.
Many books can be written about his career accomplishments in sports, about all the medals and titles he won, about all the legends he trained with and competed against.
The Legend turns 90 and we congratulate Peter George on the celebration of his 90th birthday!