Big Celebration by the Miyake Brothers in Mexico City (1968)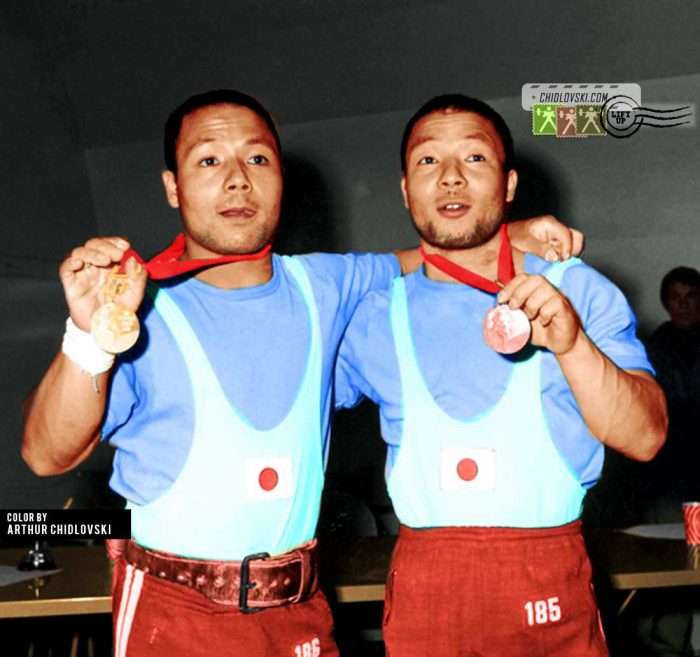 October 14, 1968, Mexico City, Mexico – The Miyake brothers, Japanese featherweights, 29-year old Yoshinobu (right) and 23-year old Yoshiyuke, celebrate an Olympic medals' harvest at the 1968 Summer Olympics in Mexico City.
Both competed for Team Japan in the 60kg weight class. Yoshinobu won his second Olympic gold medal and Yoshiyuke won a bronze medal.
---
1968 Summer Olympics
Location: Mexico-City, MEX
Weight Class: Featherweight  [60 kg]
Rank
Athlete
Results (kg)
1
Yoshinobu MIYAKE, Japan
122.5EOR + 117.5+ 152.5EWR = 392.5
2
Dito SHANIDZE, Soviet Union
120 + 117.5+ 150 = 387.5
3
Yoshiyuki MIYAKE, Japan
122.5EOR + 115+ 147.5 = 385
4
Jan WOJNOWSKI, Poland
117.5 + 115+ 150 = 382.5
5
Mieczyslaw NOWAK, Poland
117.5 + 110+ 147.5 = 375
6
Nasrollah DEHNAVI, Iran
117.5 + 107.5+ 140 = 365
7
Moo-shin YOUNG, South Korea
110 + 115+ 140 = 365
8
Manuel MATEOS DE LA ROSA, Mexico
120 + 100+ 140 = 360
9
Mladen KUCHEV, Bulgaria
115 + 107.5+ 135 = 357.5
10
Janos BENEDEK, Hungary
115 + 105+ 135 = 355
11
Dieter RAUSCHER, West Germany
112.5 + 107.5+ 132.5 = 352.5
12
Idelfonso LEE , Panama
107.5 + 107.5+ 135 = 350
13
Enrique A. HERNANDEZ, Puerto Rico
115 + 100+ 130 = 345
13
Franz STRIZIK, Indonesia
105 + 100+ 140 = 345
15
Noe RINONOS, Philippines
110 + 100+ 132.5 = 342.5
15
Mahon GHOSH , India
100 + 107.5+ 135 = 342.5
18
Sanun TIAMSERT, Thailand
100 + 95+ 125 = 320
19
Carlos PEREZ, Nicaragua
90 + 90+ 122.5 = 302.5
20
Francisco ECHEVARRIA, Guatemala
87.5 + 77.5+ 112.5 = 277.5
900
Ming Chung CHANG, Taiwan
0+ 0 = 0
900
Ramon SILFA NUNEZ, Dominican Republic
95 + 82.5+ 0 = 0
900
Petar YANEV, Bulgaria
0+ 0 = 0
900
Gerald PERRIN, Great Britain
0+ 0 = 0
900
Phung Chua KIM, Singapore
0+ 0 = 0
900
Miguel Angel MEDINA GUTIERREZ, Mexico
0+ 0 = 0
900
Nan Fei CHUNG, Taiwan
0+ 0 = 0
Back to Search Tournaments