Humberto Selvetti (Argentina): Melbourne, 1956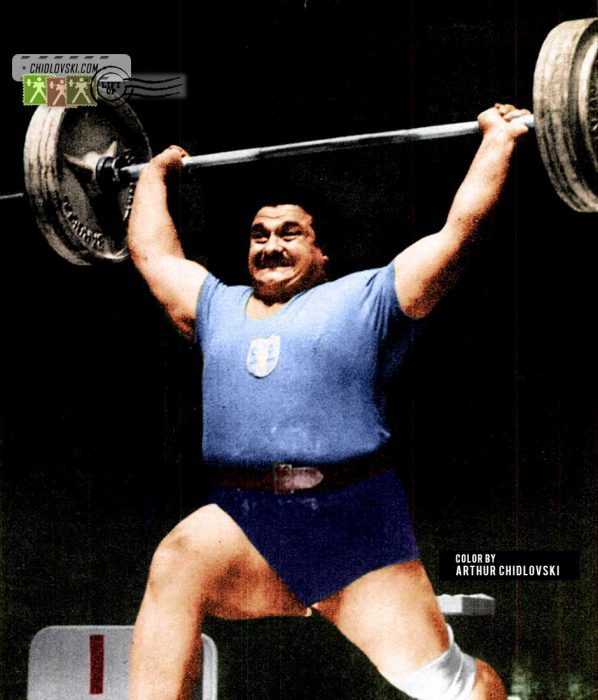 November 26, 1956, Melbourne, Australia – One of the best heavyweights in the world of the 1950s, Humberto Selvetti of Argentina competes in the 90+kg class at the 1956 Summer Olympics in Melbourne.
In Melbourne, Humberto Selvetti was very close to reach the dream of all Olympic weightlifters – to win the Olympic gold. Selvetti and legendary Paul Anderson of the United States ended the tournament with  the same total – 500kg.
Selvetti led the 90+kg  weight class tournament through the whole night. He outlifted Paul in the press by 7.5kg. In the snatch, they both finished with 145kg… and in the very last clean-and-jerk attempt Paul Anderson jerked 187.5kg and tied with Selvetti in total. The gold was awarded to Paul Anderson because he was lighter than Selvetti by 5.6kg.
By all means, Humberto Selvetti (1932-1992) was an oustanding heavyweight of his time. He was a 3x Olympian and competed for Argentina at the Summer Olympics in 1952, 1956 and 1964.
In Helsinki in 1952, 20-year old Selvetti won a bronze medal and, as shown on the cover, he became an Olympic vice-champion in Melbourne in 1956. After reaching the 500kg total at the 1956 Summer Olympics, Humberto Selvetti joined Paul Anderson in the Club 500, one of the most prestigious entity in the world prior to press elimination in 1972.
Selvetti also competed at the Summer Olympics in Tokyo in 1964 where he hook the 17th place.
At 19, Selvetti set his world record at home in Buenos Aires when he pressed 157.5kg.
Besides his Olympic heroics, he won one silver (1957) and one bronze (1953) medal at the World Championships and won two silver medals at the Pan American Games (1955, 1959).