Anatoly Kalenichenko (USSR, Russia): World Record at the 1967 USSR Spartakiade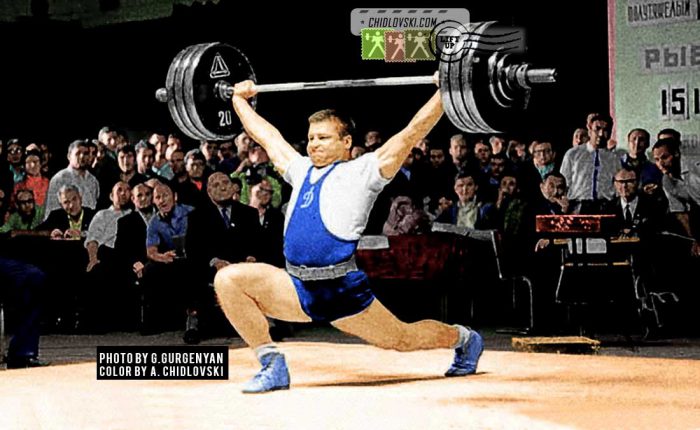 History in Color:
August 1, 1967, Moscow, Russia – Soviet middle heavyweight, European vice champion Anatoly Kalenichenko of the Dynamo Club (Volgograd, Russia) sets a new world record in snatch (151.5kg) in the 90kg class at the 1967 USSR Spartakiade and 1967 USSR Championships in Moscow.
Kalenichenko managed to beat by 0.5kg the world record set by Jaan Talts of Team Estonia just a few minutes before that on the same platform.
The world record shown on the photo is a historical moment. This was the last world record in snatch that was set using a split style. Once a  dominating technique in the world, split style was fading away and being replaced with a squat style on the elite level of Olympic weightlifting.
Anatoly Kalenichenko was one of the top Soviet middle heavyweights in the 1960s. He competed for the Dynamo Club of Volgograd, Russia and won one gold (1965), two silver (1963, 1967) and two bronze (1964, 1968) medals at the USSR Championships. He also was a 2x vice champion of the USSR Spartakiades (1963, 1967) and a vice champion of Europe (1965).
Kalenichenko was a member of the Club 500 with his 507.5kg (165+150+192.5) total that he reached on August 31, 1968 in Dubna, Russia. He set 5 world records including the one featured in this History in Color photo.