Ivan Udodov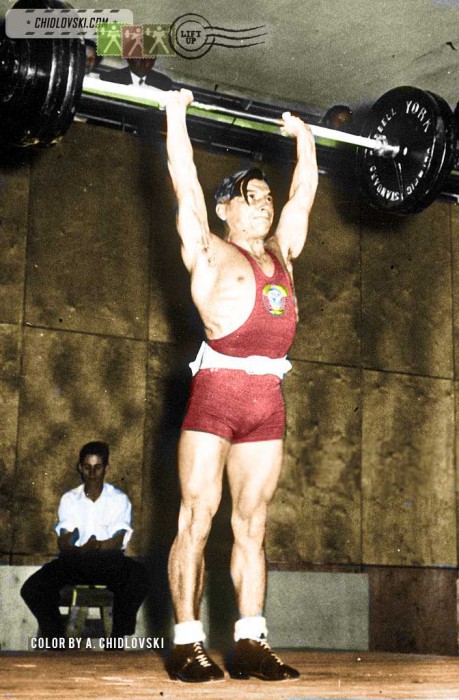 History in Color:
July 25, 1952, Helsinki, Finland – Soviet bantamweight Ivan Udodov of Rostov, Russia wins a gold Olympic medal in the 56kg weight class at the 1952 Summer Olympics in Helsinki.
This was the first Olympic gold medal won by the Soviet weightlifters.
Ivan Udodov (1924-1981) of Rostov-on-the-Don-River won the first ever Olympic medal in weightlifting for Team CCCP. Never to forget.
Many of the first post WWII Soviet weightlifting champions were deeply affected by the war. When Ivan Udodov was 17 he was captured by the Nazis and deported to the Buchenwald concentration camp. He was freed in 1945. His weight was 30 kilos and he wasn't able to walk without a help.
The doctors recommended doing weightlifting for his recovery and that's how the first Olympic champion got involved in this sport.
Ivan Udodov competed in the bantam and featherweight classes. He won 4 golds at the USSR Championships (1950-1952, 1956) and the 1956 USSR Spartakiade.
Besides 1952 Summer Olympics, Udodov won such international tournaments as World Championship (1953) and European Championship (1953) and set 4 world records in his career.
Unlike another Soviet first (first World Champion) Grigory Novak, Udodov was less flashy and less entertaining. He wasn't looking for a celebrity life in the spotlight. His ambitions were more  down to earth . He wanted to become a truck driver and coach weightlifting in his hometown Rostov. Both dreams came true.